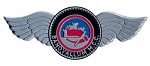 At a very wet Withcall on Sunday morning for the Banovallum MCC Dick Woolsey Trial, 48 riders turned out to ride the sections set out on a glorious Saturday morning!
Tom Ablewhite (9) had a fantastic ride to beat Dan Tuley(30) with Mike Evans(35) in third place.
On the middle route Robin Stephenson(9) beat Dylan Stamp(22) into first place with Catherine Alford((24) in third spot.
Kev Witting(5) just managed to edge the win by going the furthest clean from Stuart Alford (5) with Alex Woodhouse(7) in third.
On the White route John Hamblin(3) won the battle his mate Mike Sanderson(5) with Gavin Sanderson(9) in third.
A massive thanks goes to the observers for watching the 48 riders go passed them 5 times in the pouring rain without you all the event would not go ahead. Also thanks goes to the course plotters and officials for there help.
Our next trial is on Sunday 17th November at Wickenby starting at 10.30.
Thanks for everyone who turned out.