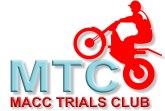 Results from Round 1 of the Macclesfield Trials 6T9 Winter Series, held at Rough Heys Quarry Bosley, on 13th Oct 2019.
Congratulations to the class winners (Billy Craig, Mike Roberts, Chris Clarke, John Lawrence, and Sonni Callear).
Thanks to the landowner, the observers (Barry Craig, Mike Griffiths, Roger Bowyer, Scott Ellis, Tracy Robinson, and any I missed), the organising team, Andy Foot and the 6T9 Brand, and all riders for your support.
We switched to a new formula of having 5 distinct routes on every section, rather than the previous 50/50 approach. Early feedback suggests this was well received, as each class gets a full set of sections that are aligned to their needs. All feedback welcome.
Next round is on Sunday 17th Nov 2019 at 10:30.