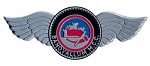 Banovallum Mcc held their last trial of 2019 at Wickenby on Sunday 17th November. The sections were set on Saturday with the weather in mind and as usual it rained before the start.
On the Expert route Roman Kymyckyj (37) had a good ride in tricky conditions to take the win from Scott Witting (43) and Mark Hawkins (78) in third place.
Chris Traves (0) had a convincing win over Pete Noast (5) on the middle route with Steve Marwood (8) in third place.
On the 50/50 route Kev Witting (11) was in 1st place in front of Jules Croft on (23) and Gwyn Hanson (24) in third spot.
Ian Bruntlett (1) with only a single dab took the win from Andrew Frith (5) with Bob Chapman (7) in third place.
A big thanks goes to the observers for their continued help this year as without you we would not have been able to run any of the trials also to the course plotters and officials for organising the events.
We want to wish you all a Merry Christmas and a great new year and look forward to seeing you next year at our 1st trial on Sunday 26th January 2020 at South Thoresby Quarry.