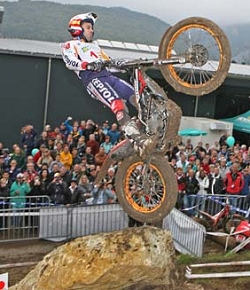 In reality their victory was never in doubt, but Spain certainly stamped their total authority on the 2012 FIM Trial des Nations by riding in a league of their own throughout the twenty-ninth edition of this unique team event. Spain's winning margin was a massive ninety-eight marks after two laps of the eighteen sections that were hosted in and around the Swiss town of Moutier. Lead by the current FIM Trial World Champion Toni Bou – Repsol Montesa, the Spanish line up was further reinforced by Adam Raga – Gas Gas, Jeroni Fajardo – Beta and Albert Cabestany – Sherco as they romped to their ninth successive team title. Very much as yesterday's Women's event the result was determined, this time by the best three scores in each of the sections from the four riders within each team.
Spain dropped twenty-one marks on the opening lap, and twenty-four on their second visit to the mainly hillside hazards, their overall total of forty-five marks was some twenty-one marks better than Great Britain's best lap score. Any suggestion that almost British conditions were going to help James Dabill – Beta, Michael Brown –Gas Gas, Jack Challoner – Beta and Alexz Wigg – Gas Gas put their Spanish counterparts under pressure soon evaporated along with the morning mist that hung low in the valley as the initial squads of riders got the action underway. In fact it was Great Britain who found themselves under pressure as Italy closed out the first lap within touching distance of the eventual runners-up. Matteo Grattarola – Gas Gas, Francesco Iolitta – Montesa, Fabio Lenzi – Beta and Daniele Maurino – Ossa finally took the remaining podium place well ahead of France and Norway who completed the top five in the World Championship class.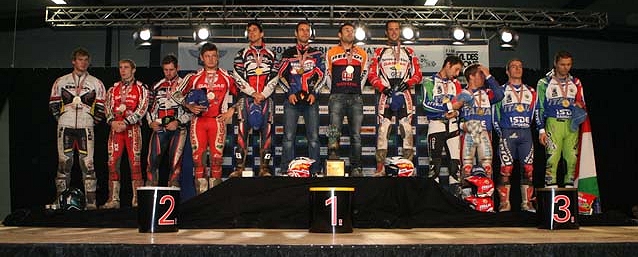 It was very much a contrasting tale in the International Trophy Group where several teams were being tipped as potential winners, such is the fierce competition in this category. The Czech Republic would finally triumph in this division much thanks to an inspired last lap that took them clear of their nearest rival. The Czech Republic last lifted this trophy back in 2008, so Pavel Balas – Gas Gas, Martin Kroustek – Beta, Martin Matejicek – Gas Gas and Jiri Svoboda – Beta rightly indulged in some hefty celebrations when it became obvious they would be heading home with the title once again.
Almost matching the Czech Republic mark for mark on the second lap, Sweden's quartet of Emil Gyllenhammar – Beta, Eddie Karlsson - Gas Gas, Jesper Johansson – Beta and Martin Lagergren – Sherco produced an exceptional closing ride to pull themselves back on to the rostrum. Their second lap total of seventeen marks saw them finish level with last year's winners Germany and force a tie break. Sweden would triumph in the tie decider with the Scandinavian squad having recorded several more cleans than their central European rivals. This is the second year in a row that Sweden has finished as runners-up in this class.

2007 International Trophy Group winners Belgium took fourth place at this edition of the FIM Trial des Nationswhilst Ireland were a fair way off the form that saw them take this title back in 2004, although still battled their way into fifth place when the final scores were calculated. America and Australia enjoyed a day long fight, with the USA coming out on top to become the highest placed overseas team, they finished sixth and seventh respectively. Austria and Finland occupied eighth and ninth spots, leaving the host nation Switzerland to slot into a well-earned tenth place finish on home turf.
World Championship Results
1. Spain - 45
2. Britain - 143
3. Italy - 178
4. France - 227
5. Norway - 365
International Trophy Results
1. Czech Republic - 35
2. Sweden - 50
3. Germany - 50
4. Belgium - 63
5. Ireland - 65
Photo Coverage
For photo coverage from this event, click here