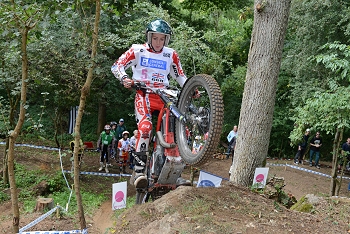 Great Britain, represented by Emma Bristow – Sherco, Rebekah Cook – Beta and Joanne Coles – Gas Gas are the worthy winners of the 2013 FIM Women's Trial des Nations held in La Chatre, France. The British trio dominated today's event from start to finish with a winning total that was less than half of their nearest rivals. Spain's team consisting of Sandra Gomez – Gas Gas, Mireia Conde – Beta and Elisabeth Solera – Gas Gas had to settle for second place on this occasion as their three-year victorious run came to an end. Britain's last victory was back in 2009, when the same line up of Bristow, Cook and Cole also triumphed over their European counterparts.
Germany completed today's podium as Theresa Bauml – Ossa, Ina Wilde – Sherco and Jessica Wulf – Beta put in a strong closing lap performance to keep the host nation off the rostrum. Marilyne Journet – Beta, Pauline Masanes – Gas Gas and Sandrine Juffet – JTG did their absolute best on home soil to snatch a top three placing, as they did in Switzerland twelve months ago, but fell short by ten marks come the finish. With France in fourth place, the Italian line up of Martina Balducchi – Scorpa, Elisa Peretti – Gas Gas and Sara Trentini – Beta rounded out the top five, but some way off the pace of both France and Germany.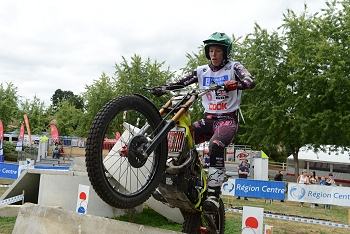 Australia were the highest positioned non-European nation in sixth place and were well represented by Brooke Lonie – Gas Gas, Kristie McKinnon – Gas Gas and Adina Reed – Beta as they beat the USA by a mere two marks after two laps of fifteen sections that were based around yesterday's individual World championship course. American riders Caroline Allen – Gas Gas, Caroline Altman – Gas Gas and Rachel Hassler – Gas Gas had headed their Australian counterparts by seven marks after the first lap, but saw their advantage become a deficit as the Trial came to a close.
Norway were next in line in eighth place, with Camilla Helen Dybedahl – Gas Gas, Erika Melchior – Beta and Helene Sorlie – Gas Gas coming home well clear of New Zealand who placed ninth on one hundred and eighty one marks. However New Zealand's effort should be saluted with them only having two squad members in the form of Stefanie Downes – Sherco and Gabrielle Gundry – Gas Gas, with the team total being calculated by the best two rider scores in each section.
Japan and Ireland showed the real spirit of the FIM Women's Trial des Nations as they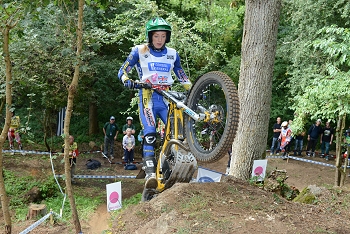 endured an extremely tough day at the office, but never stopped smiling throughout the event. Japan was represented by Erika Kodama – Montesa, Yuka Okimoto – Gas Gas and Junko Sasaki – Gas Gas, whilst Ireland's pairing was made up of Kate Callaghan – Beta and Michelle Hanlon – Gas Gas. These two teams finished in tenth and eleventh respectively to close out the final places of the classification.
Heavy and persistent overnight rain did little to penetrate the dry and dusty ground and made no difference to the going as three additional sections were added to the twelve hazards that were used twenty-four hours earlier. Further modifications were made to the existing sections in order to reduce the severity of the course ready for today's team competition. The sheer difference of the levels of the different countries was perfectly illustrated as Great Britain finished with a total of just sixteen marks whilst Ireland came home having dropped two hundred and fifty five marks. Tomorrow will be the turn of the men, when the 2013 FIM Trial des Nations will take place.
Final Results

1. Great Britain - 16
2. Spain - 33
3. Germany - 40
4. France - 50
5. Italy - 76
6. Australia - 99
7. USA - 101
8. Norway - 123
9. New Zealand - 181
10. Japan - 189
11. Ireland - 255
Photo Coverage
These are our own photos and will not be seen anywhere else.
Free Public Photos (10)
Trials Central Supporters Photo coverage (99) - Higher resolution and no watermarks