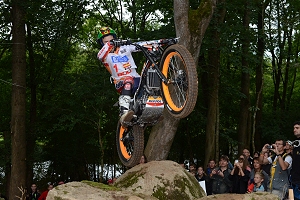 Under clear blue skies for most of the day the mighty Spanish men's team won the FIM Trial des Nations for the tenth time in a row as they ran out easy winners at this year's event held in La Chatre, France. Captained by recently crowned FIM Trial World Champion Toni Bou – Repsol Montesa, Spain had pure quality right through its ranks as Bou was joined by Adam Raga – Gas Gas, Jeroni Fajardo – Beta and Albert Cabestany – Sherco. Spain's winning margin was a massive eighty-nine marks over runners up Great Britain after two laps of eighteen dry and dusty sections. This was the twentieth time that the Spanish team has won this team competition in the thirty editions to date.
Headed by James Dabill – Beta, Great Britain were once again the best of the rest, despite the efforts of his supporting cast of Jack Challoner – Beta, Michael Brown – Gas Gas and Jack Sheppard - Beta. Britain last won this famous trophy back in 2003, and today marked the fifth year on the bounce that they have finished as runners up to Spain. In truth the British riders were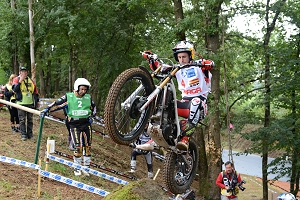 never in the running for top honours today, with Spain's total score being less than Britain's best lap score, such was the divide between the two leading teams.
Britain's second place was not a given as they were pushed hard all day by the host nation. France's line up of Loris Gubian – Gas Gas, Alexandre Ferrer – Sherco, Steven Coquelin – Gas Gas and Cedric Tempier – Sherco produced a determined and spirited performance in front of a sizeable crowd who cheered them through each and every section.
Although the French quartet never actually headed the British squad at any stage, they remain within touching distance throughout the competition and threatened to cause an upset right until the end. This was the first time that France has made it onto the podium at the FIM Trial des Nations since 2001, their last third place finish also coming on home soil.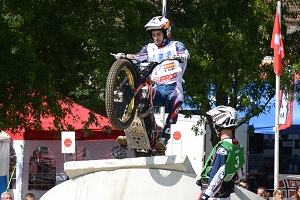 France's success came at the expense of Italy who have not been out of the top three since 2009. The Italian squad of Matteo Grattarola – Gas Gas, Francesco Iolitta – Montesa, Daniele Maurino – Ossa and Matteo Poli – Ossa were never in the hunt and finished a distant fourth and over fifty marks from their French rivals. Norway were the fifth and final finisher in the World Championship class as they endured a tough day in La Chatre. Despite making it through very few sections Ib Andersen – Gas Gas, Kristoffer Leirvaag – Ossa, Ivar Norum – Beta and Hakon Pedersen – Sherco showed good spirit and ended the day still smiling.
In the International Trophy Group it was once again a tense affair with Germany finally coming out on top, but only by a mere five marks over runners up the Czech Republic. Jan Peters – Beta, Christian Kregeloh – Ossa, Micro Kammel – JTG and Jan Junklewitz – Sherco produced an outstanding final lap to snatch the trophy that they last won in 2011. This was the seventh time that the German team has been triumphant in the supporting class since its introduction in 1995.
The USA completed the podium in the International Trophy Group as they delivered their best result since they won this division in 2005. The Americans had to fight off the attentions of Australia who eventually took a hard earned fourth spot just two marks ahead of Sweden who were unable to find the form that has seen them finish as runners up in the last two editions of this event. Belgium, Austria, Switzerland, Ireland and New Zealand rounded out the top ten respectively as a total of twenty-two countries took part in the thirtieth edition of the FIM Trial des Nations.
World Championship Group Results

1. Spain - 38
2. Great Britain - 127
3. France - 141
4. Italy - 199
5. Norway - 383
International Trophy Group Results
1. Germany - 22
2. Czech Republic - 27
3. USA - 46
4. Australia - 60
5. Sweden - 62
6. Belgium - 80
7. Austria - 101
8. Switzerland - 171
9. Ireland - 178
10. New Zealand - 222
11. Poland - 241
12. Latvia - 350
13. Portugal - 362
14. Luxembourg - 372
15. Canada - 385
16. Denmark - 431
17. Slovenia - 497


Photo Coverage
These are our own photos and will not be seen elsewhere
Free Public Photos (20)
Trials Central Supporters Photo Coverage (244) - higher resolution and no watermarks