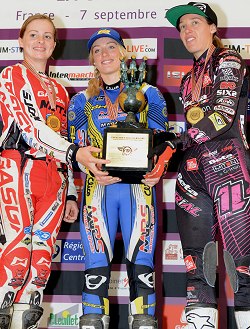 Brit Girls Winners In 2013The ACU Trials and Enduro Committee are delighted to be able to announce that the Trial des Nations teams have been selected especially as they are able to field an unchanged team of reigning champions in the Women's event. Emma Bristow, Becky Talbot and Joanne Coles were victorious in La Bresse, France last year and will start as favourites for this year's trial to be held in Andorra on September 13th. The Women's World Championship will be held on the Friday in which the revitalised Katy Sunter will take part and she will also will travel as reserve for the Women's TDN with Dan Thorpe carrying out Team Manager duties.
The Men's team for the Sunday event virtually picked itself with the 4 regular World Pro riders getting the nod. Filling the first 4 places in the recent Mackenzie British Championship Trial cemented the selection of James Dabill, Michael Brown, Alexz Wigg and Jack Sheppard.
The Men's Team Manager is yet to be confirmed but Mick Wren will take overall control of both team's efforts and is confident of some excellent results.