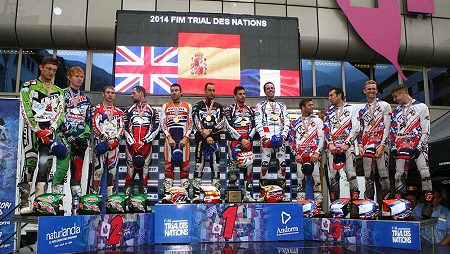 With a team consisting of the current four highest ranked riders in the World it is evident that Spain head to the FIM Trial des Nations in L'Hospitalet de l'Infant this weekend as the clear favourite to lift the main trophy one again and this time on home soil. Only an absolute disaster will prevent Toni Bou – Repsol Honda, Adam Raga – Gas Gas, Jeroni Fajardo – Beta and Albert Cabestany – Sherco from capturing the team title for a record extending twenty-second time. Since the event was last hosted in Spain back in 2004, the same four riders with the exception of Fajardo who replaced Marc Freixa in 2006, have won the FIM Trial des Nations eleven times on the bounce.
In more recent years it has been Great Britain who have played the role of distant runners up on the more frequent basis and again with a changed line up of James Dabill – Vertigo, Jack Sheppard – Jgas, Alexz Wigg – Gas Gas and Same Haslam – Gas Gas they will be hoping to take their place at least on the second tier of the podium come Sunday afternoon. Team GB last won the competition in Lavarone, Italy back in 2003.
However the second place berth will not be such a foregone conclusion this time around due to the welcome return of Japan to the competition, with the squad from the land of the rising sun having sadly been absence from this end of season event in more recent years. Japan's renewed attack will be led by FIM Trial World Championship veteran Takahisa Fujinami – Repsol Honda who will be ably supported by teammates Tomoyuki Ogawa – Honda, Tsuyoshi Ogawa – Beta and Akira Shibata – Honda. Japan finished in a disappointing sixth place when they last competed with a weakened squad in 2011 and therefore will hope to return to their more usual podium placing on this occasion.
France occupied the last rostrum position last year and will no doubt fight hard to retain their place in the top three with both Japan and fierce rivals Italy sharing similar objectives. According to the latest ranking the French team appears to have the upper hand as they field a quartet that includes Alexandre Ferrer – Sherco, Quentin Carles de Caudemberg – Beta, Loris Gubian – Gas Gas and Benoit Dagnicourt – Beta. The Italian opposition will comprise of Luca Cotone – Sherco, Matteo Grattarola – Gas Gas, Daniele Maurino – Ossa and Gianluca Tounour – Gas Gas as they look to improve on the fourth spot they took in 2014. Norway completes the six teams who will contest the main class.
Germany were the winners of the International Trophy Group last season when they were joined on the podium by Sweden and the United States respectively. Looking to retain their crown Jan Junklewitz – Sherco, Franz Kadlec – Beta, Micro Kammel – Jgas and Jan Peters – Beta are the riders who have the hopes of the German nation resting across their shoulders this time out. With five silver medals in the past the Swedish line up of Eddie Karlsson – Montesa, Marcus Eliasson – Beta, Emil Gyllenhammar – Beta and Marcus Igelstrom – Sherco will be doing everything possible to grab gold this Sunday. The USA team of Bryan Roper – Sherco, Andrew Putt – Sherco, Logan Bolopue – Sherco and Daniel Blanc-Gonnet – Sherco should not be underestimated especially as both Roper and Putt have already proved their pedigree as regular contenders in the 2015 FIM Trial World Championship.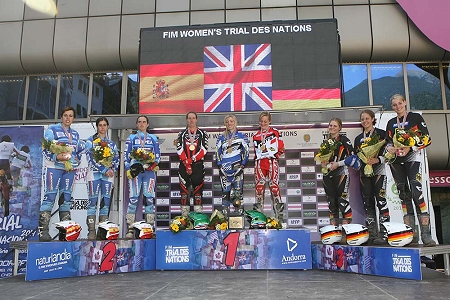 This Saturday will see the FIM Women's Trial des Nations take place ahead of the men's competition on Sunday. Great Britain represented by Emma Bristow - Sherco, Rebekah Cook – Jgas and Donna Fox – Sherco will be in search of their third consecutive victory amongst the ladies to take their overall tally to six wins since their first triumph in France back in 2006. Spain's feminine trio of Sandra Gomez – Scorpa, Mireia Conde – Beta and Elisabet Solera – Gas Gas will have other ideas as they look to snatch the title back on home soil. However Germany who placed third behind Britain and Spain in 2014 could just spring a surprise with their strong line up of Ina Wilde – Gas Gas, Theresa Bauml – Ossa and Sarah Bauer – Sherco.
All in all there will be much to play for as the FIM Trials des Nations rolls into in L'Hospitalet de l'Infant this coming weekend.