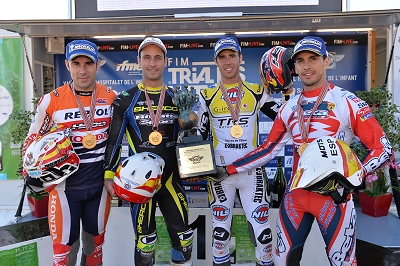 Riding on home soil, the Spanish team of Toni Bou – Repsol Honda, Adam Raga – TRS, Jeroni Fajardo – Beta and Albert Cabestany – Sherco did exactly what was expected of them as they recorded a commanding twelfth straight win in the 2015 FIM Trial des Nations which this year was hosted in L'Hospitalet de l'Infant. Boasting a squad that included the current best top four riders in the FIM Trial World Championship, Spain's twenty-second victory in total in this prestigious inter country competition was never in question. With an eventual winning margin of eighty-nine marks over runners up France, Spain once again confirmed their outright supremacy within this discipline.
Whilst well beaten by their Spanish peers, the French team of Alexandre Ferrer – Sherco, Quentin Carles de Caudemberg – Beta, Loris Gubian – Gas Gas and Benoit Dagnicourt – Beta achieved their best result since they last finished as runners up in America in 1992. A much-improved second lap saw France overtake both Japan and Italy during the latter part of the Trial, having found themselves down in fourth spot at the halfway stage. They closed the Trial some nineteen marks ahead of their Japanese rivals.
It was a day when the normal podium order was rearranged as the Japanese line up of Takahisa Fujinami – Repsol Honda, Tomoyuki Ogawa – Honda, Tsuyoshi Ogawa – Beta and Akira Shibata – Honda not only returned to the competition for the first time since 2011, but also recorded their first podium placing since 2008 as they secured third spot by the slimmest of margins.
Japan's gain was Great Britain's loss as they failed to finish in the top three for the first time since 1992, ironically the same year that France last took the runners up position. The British foursome of James Dabill – Vertigo, Jack Sheppard – Jgas, Alexz Wigg – Gas Gas and Sam Haslam – Gas Gas never looked comfortable on the dry and dusty terrain that was made more intense by the searing sun that shone overhead. Although team GB did produce a better closing lap, they were then to cruelly miss out on a spot on the rostrum as Japan beat them on a tie-decider. Both teams ended the day on one hundred and twenty-eight marks, but it was the Japanese protagonists who had recorded two more cleans than their European counterparts to snatch third place.
After a promising opening lap when they occupied an interim third position, Italy's hopes of a famous podium result faded as the second lap wore on. Finally, Luca Cotone – Sherco, Matteo Grattarola – Gas Gas, Daniele Maurino – Jgas and Gianluca Tounour – Gas Gas had to be content with rounding out the top five in the World Trophy class. Norway's squad comprising of Ib Andersen – Beta, Ivar Norum – Ossa, Hakon Pedersen – Ossa and Ole Kristian Sorensen – Sherco battled throughout the day to take sixth spot, although somewhat off the pace of other teams in this category.
Returning to the top step for the first time since 2012, the Czech Republic were the worthy winners in the International Trophy Group, this being the third time that they have won this class. The quartet of Martin Kroustek – Beta, Martin Matejicek – Gas Gas, Jiri Svoboda – Beta and Marek Wunsch – Gas Gas rode an almost perfect Trial with lap scores of just two and then one to end the day with a team total of three marks. Last year's victors, Germany, who were represented by Jan Junklewitz – Sherco, Franz Kadlec – Beta, Micro Kammel – Jgas and Jan Peters – Beta matched the Czech Republic's tally on the opening lap, but were unable to do the same on their second visit to the sections.
Germany's total of ten marks was still enough to give them the runner's up spot and put them seven clear of a jubilant Australia who recorded their first podium finish since 2008. Chris Bayles – Beta, Timothy Coleman – Gas Gas, Kyle Middleton – Gas Gas and Colin Zarczynki – Sherco made their long trip from down under very worthwhile as they took third spot by three marks from the much fancied Swedish team that included Eddie Karlsson – Montesa, Marcus Eliasson – Beta, Emil Gyllenhammar – Beta and Marcus Igelstrom – Sherco. With Sweden down in a slightly disappointing fourth position, the top five was rounded out by the USA whose line up featured Bryan Roper – Scorpa, Andrew Putt – Scorpa, Logan Bolopue – Scorpa and Daniel Blanc-Gonnet – Scorpa. Ireland, Austria, Belgium, Switzerland and Latvia occupied places six to ten respectively in a class that was contested by fifteen nations.
2015 Trial des Nations Results
World Trophy

International Trophy

1. Spain - 20

2. France - 109

3. Japan - 128 (76 cleans)

4. Britain - 128 (74 cleans)

5. Italy - 132

6. Norway - 224

pdf Download Full Results (110 KB)

1. Czech Republic - 3

2. Germany - 10

3. Australia - 17

4. Sweden - 20

5. United States of America - 24

6. Ireland - 38

7. Austria - 74

8. Belgium - 79

9. Switzerland - 124

10. Latvia - 174

11. Denmark - 189

12. Portugal - 238

13. Andorra - 243

14. Luxembourg - 289

15. Slovenia - 409
Photo Coverage
Trials Central Supporters - Gallery of 260 high resolution and unwatermarked images from the 2015 Men's Trial des Nations can be accessed by clicking here
Free Public Gallery