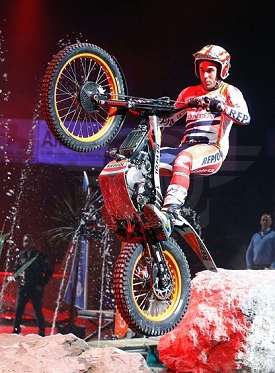 The 2016 FIM X-Trial des Nations will take place at the Palais Nikaia in Nice, France this coming Friday evening. The ocassion will mark the tenth running of this event. The competition was staged in Spain for the first seven years, but this will be the third consecutive time that this most prestigious and unique International event has been staged at this excellent venue on the south coast of France.
The format for the competition, as it has been for the last two editions, is a contest between five two-man teams which will include the familiar competitors from Spain, France, Great Britain and Italy plus for the first time, the United States of America.
Spain has always been the dominant country in this competition, their national team winning on each of the nine previous occasions the event has been held since its inception in 2002.
The first seven victories for the Spanish were won under the original three-rider team format, and then they won twice more in 2012 and 2015, when the two-man arrangement was introduced with riders Toni Bou and Albert Cabestany. But this year the FIM has introduced a new twist to the rules and now the two man teams must include one rider under twenty-five years old. So this year, for the first time in the contest's history there will be no Cabestany in the Spanish team line up. In an incredible feat, Albert has been a member of the winning team every single year the contest has been held.
Bou – who last Friday in Marseille was crowned FIM X-Trial World Champion for the tenth consecutive year - will be partnered this time by his teenage Repsol Honda team mate Jaime Busto.
Eighteen year-old Busto will be making his debut in the competition with just three FIM X-Trial World Championship appearances behind him, twice in Barcelona and once in Marseille.
Said five times FIM X-Trial des Nations winner Bou. "We are going to Nice to try to win for sure, but it will be more difficult this time with the young riders. It will be different, but these are the new rules and it is important that we work together as a team."
"The sections in Nice will be technical and very beautiful I am sure because Bernard (Espripeau) is very experienced at setting the sections and makes a good night for the people and for the riders. It will be an incredible show I think and I hope a perfect night too."