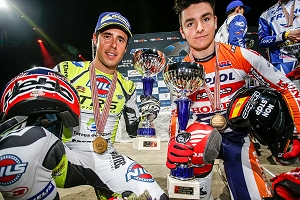 After a tense opening lap Spain represented by Adam Raga and Jaime Busto took the victory in the 2016 FIM X-Trial des Nations held in Nice, France. Come the finish Spain's six mark winning margin, over a spirited runners-up performance by France's duo of Alexandre Ferrer and Benoit Bincaz was relatively comfortable and gave them their tenth title in the ten editions of this event to date. Riding for Italy, Matteo Grattarola and Gianluca Tournour rounded out the podium in a distant third spot. Great Britain's pairing of James Dabill and Iwan Roberts placed a disappointing fourth whilst Andrew Putt and Bryan Roper secured fifth position for team USA.
Before any of the five teams attempted the six observed sections on the opening lap, a speed section was used to determine the riding order for the initial tour. Perhaps as expected Spain was fastest over the ground with Busto earning his team the right to ride last through the hazards on the first attempt. Italy was then next quickest with Tournour followed by Bincaz representing the host nation France, as Roberts flying the flag for Great Britain and Roper on behalf the USA occupied the final two places respectively. This meant that the Americans had to open the course as the action got underway.
The format for the FIM X-Trial des Nations sees each rider in the two-man team ride three pre-selected (by their team manager) sections with their team mate then attempting the other and remaining three hazards. This process was repeated on lap two with the riders swapping the sections they each rode initially.
Wanting to stake an early claim on a tenth title Spain were almost faultless on the opening lap with Raga losing only a single mark in the third hazard to deliver a team total of one mark. France's pairing gave the home fans plenty to cheer about as they put themselves very much in contention with a tally of two marks. The other three nations were unable to match this pace with Italy next best on fourteen, Great Britain sixteen and finally USA on twenty-three marks.
Lap two got underway with the opposing riders in each team racing against the clock to determine the running order for the closing part of the competition. Spain again won the right to ride last which would prove to be significant as they plotted their way to victory having first watched all of their rivals post their second lap scores. With most of the hazards ridden in the reverse direction on the concluding tour the scores rose considerably as the severity increased with this modification in the course. With no changes in the standings after lap one Spain pulled clear of hosts France to take the win, whilst Italy did enough to secure the final rostrum placing leaving Great Britain and the USA to seal the last two positions respectively.
pdf Download Full Results (97 KB)
Images: FIM/Good Shoot