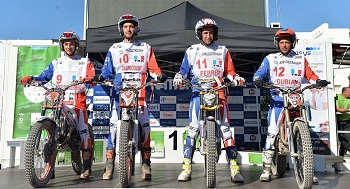 The international outdoor Trial season comes to a close this weekend with the thirty third running of the FIM Trial des Nations team event when the ski resort of Isola 2000, in the southern French alps hosts this prestigious event.
Surprisingly in the history of the FIM Trial des Nations, which was first held in Poland in 1984, the prominent Trial nation of France has only hosted the event on four previous occasions. These were in 1990 at Massais, 2001 at La Bresse, 2006 at Breal sous Montfort and finally 2013 at La Chatre.
The French nation actually dominated the FIM Trial des Nations in the early years, winning the contest five times in the first seven occasions.
Their final victory coincided with France hosting the event for the first time in 1990 at Massais, in the Poitou-Charente region of western France, when the team consisting of Philippe Berlatier, Pascal Couturier, Bruno Camozzi and Thierry Girard defeated Spain and Italy.
In 2001 at La Bresse, in north east France, the home squad of Jerome Bethune, Gregory Eyries and the Camozzi brothers Bruno and Christophe, finished third behind Spain and Great Britain, but by then France was being replaced as the premier force in Trial as the era of Spanish dominance began to kick in, although France has always remained in the World Championship group, never dropping to the lower international contest.
The host nation squad in 2006 saw Christophe Bruand join Bethune and the Camozzi brothers for a fourth place finish behind Spain, Great Britain and Japan when the event had moved to Brittany in western France at Breal sous Montfort.
But seven years later in 2013 at La Chatre, in the country's central region, France were back on the podium in third place behind the now all-conquering Spain and Great Britain thanks to Steven Coquelin, Alexandre Ferrer, Loris Gubian and Cedric Tempier.
The FIM Women's Trial des Nations first took place in Spain in 2000 and the following year at La Bresse the French trio of Claire Bertrand, Blandine Guillaude and Murielle Thumy finished fourth in their home event.
In 2006 there was a fifth place as Marilyne Journet and Sandine Juffet joined Bertrand at Breal sous Montfort while it was back to fourth place in 2013 behind Great Britain, Spain and Germany at La Chatre as Journet and Juffet were joined by Pauline Masames.
Both the French men's and women's squads will be in action once again this weekend in Isola 2000.