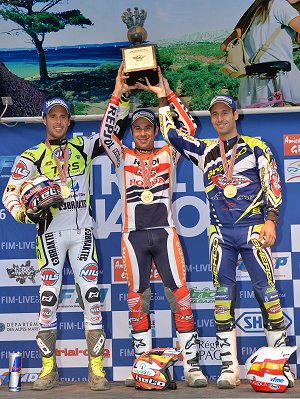 Nowhere is Spain's global domination of Trial more readily apparent than on the FIM Trial des Nations roll of honour. Victorious for the last thirteen years, in the thirty-three-year history of the inter-country team competition Spain have triumphed on an amazing twenty-three occasions.

With the 2017 FIM Trial des Nations taking place this coming weekend at Baiona in Spain the time is right to take a look at the history of the event often described as the Olympics of Trial...

Staged for the first time in 1984 in Poland, it was France who emerged winners of this inaugural event with their four-man team comprising Philippe Berlatier, Gilles Burgat, current FIM Trial Director Thierry Michaud and his older brother Fred.

The French were back on top again in 1985 with Thierry Michaud, by now FIM Trial World Champion for the first time, leading a largely unchanged team - only his brother had been replaced by Pascal Couturier - to victory in Italy. The same team went on to take a hat-trick of wins the following year in Austria before Italy claimed their one and only victory in Finland in 1987 thanks to the efforts of Diego Bosis, Renato Chiaberto, Carlo Franco and Donato Miglio.

France regained the TDN title in 1988 with Thierry Girard joining Berlatier, Couturier and Michaud on top of the podium, but south of the Pyrenees the Spanish were assembling their troops.

In 1989 Jordi Tarres - who was celebrating his second FIM Trial World Championship - led Amos Bilbao, Andreu Codina and Gabino Renales to a landmark victory in Belgium. The French counter-attacked on home soil to take their fifth and final TDN win the following year with Berlatier, Couturier, Girard and Bruno Camozzi, but if your country's capital was not called Madrid then the writing was on the wall.

From 1991 the Spanish Armada swept all before them with the rock-solid foundation of Tarres, Bilbao and Marc Colomer - supplemented on occasion by Renales, Joan Pons, Angel Garcia and Marcel Justribo - taking six consecutive wins before a famous day on the Isle of Man when Great Britain took an emotional home victory.

Led by newly-crowned FIM Trial World Champion Dougie Lampkin with unwavering support from Steve Colley, Graham Jarvis and Dan Clark, the British quartet stormed to a surprise win ahead of the Spanish favourites and so began an intensely exciting period when the two great Trial nations fought tooth and nail for global dominance.

Spain struck back in Italy in 1998 with Jordi Pascuet replacing the recently retired Tarres before Britain returned to the top in 1999 with Martin Crosswaite taking Clark's place on the victorious team.

The new millennium was marked by Spain's ninth TDN victory as Albert Cabestany got the call-up for the first time alongside Colomer, Justribo and Marc Freixa and in 2001 - with Justribo dropped in favour of team newcomer Adam Raga - they retained their title.

The British Bulldog spirit prevailed in 2002 with Lampkin, Colley, Jarvis and Sam Conner taking a one-mark win from Spain in Portugal and the following year, with Ben Hemingway replacing Colley, Britain claimed another one-mark victory over their fiercest of rivals.

From 2004 onwards the Spanish have kept a vice-like grip on the TDN title with Toni Bou, Raga and Cabestany forming the nucleus of an unbeatable team every year since 2005.

Introduced in 2000, the FIM Women's Trial des Nations was initially a free-for-all with Spain, Germany, Norway and France all victorious during the first six years of the competition before Maria Conway, Rebekah Cook Talbot and Donna Fox steered Great Britain to the top in 2006 and 2007.

Spain won again in 2008 with off-road legend Laia Sanz, Sandra Gomez and Mireia Conde but Emma Bristow, Joanne Coles and Cook Talbot put Britain back on top in 2009.

From 2010 to 2012 the Spanish trio of Sanz, Gomez and Conde reeled off a hat-trick of wins but since 2013 the FIM Women's Trial des Nations has been locked down by the British - first with Bristow, Coles and Cook Talbot and since 2015 with Bristow, Cook Talbot and Fox. This year Cook will be replaced by Jess Bown as Great Britain look to continue their success in the female competition.

Back over to the men, with last year's winners of the International class, Germany having now moved up to compete against the likes of Spain and Italy, 2016 runners up Sweden are amongst the favourites to take top honours in the International class this weekend in Baiona, Spain.