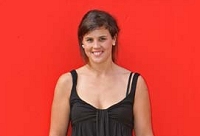 Will she win again - is the question on everyone's lips as twenty-six-year-old Spanish rider Laia Sanz, who has won the FIM Women's Trial World Championship an incredible eleven times, heads to Andorra to begin her 2012 campaign. Having dominated the Women's category for over a decade, Sanz is the clear favourite to clinch victory in the opening round of the three leg series this weekend. However, Sanz is faced with some new challenges this season.
Firstly, this will be her first season with the factory Gas Gas team, which means she has had to adapt from a four-stroke Montesa to her new two-stroke Gas Gas machine. Secondly, she has only recently recovered from a knee injury, which put her out of action for three months over the winter. On coming out of recovery, Sanz threw herself straight back into a busy schedule, which not only includes Trial but also Enduro racing too.
Despite these challenges Sanz is determined to defend her title and to claim her twelfth FIM Women's Trial World Championship this year, saying: "My goal is to win again. After winning eleven times, second place is not an option. I will fight for first position." She adds: "I am very happy with my new set-up for this season. After being with Montesa for so many years, it was a good time to make a change. The only problem over the last few months has been my knee injury, but it is getting better every day. I have also had to adapt very quickly to my new bike, but I am training hard and I will be ready to fight this weekend."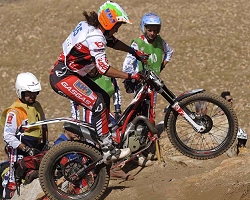 Laia was only fourteen years old when she first won the Women's championship in its 2000 inception year. Since then, she has claimed all but one title, with 2007 acting as the only blemish on an otherwise perfect record when Iris Kramer - Gas Gas, who retired from international competition in 2009, demoted her to second place.
Although she has dominated the Women's category for so many years, she does not take success for granted and knows that she will need to work hard to stay at the top. Laia comments: "Becky (Rebekah Cook) has been very strong over the last few seasons, and also Emma (Bristow) has been getting better every year. For sure, they will be among the strongest riders this season too."
Laia also hopes that the 2012 schedule will assist her latest title assault. "I think having three months off before the next round will be a good thing. My busy schedule over these last two years has not allowed much time for a holiday. Also it will be a good time to train with my new bike. It will give me lots of time to adapt and to prepare for the final two rounds of the series."