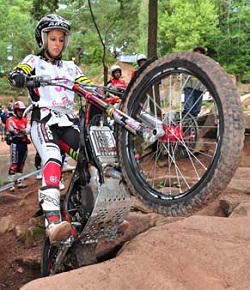 The 2012 FIM Women's Trial World Championship will open in Andorra this weekend. Sixteen female riders from eight different countries, and ranging from the age of sixteen to forty-six, will go head to head in the first of three rounds that will consist of five counting days in total.

The opening two-day round for the Women's series will run alongside the fourth round of the FIM Trial World Championship for the male competitors in Naturlandia, Sant Julià de Loria, Andorra. After this weekend, female riders will then have a three-month break before they head to Switzerland (Tramelan) for the second round of the series on 22 - 23 September. Switzerland (Moutier) will also have the honour of hosting this year's Women's final event on 28 September ahead of the FIM Trial des Nations.
Reigning champion, Sanz is determined to clinch her first victory and World title for the Gas Gas factory, having transferred to the team at the end of last season. No other rider was able to beat Sanz in 2011, with the Spaniard proving unstoppable in all three rounds of the series. She will be hoping to record a similar victory in 2012. However, Great Britain's Rebekah Cook - Beta and Emma Bristow - Ossa, who Sanz regards as her closest rivals, will provide fierce competition as they battle to knock Sanz off the top spot.

Cook has been a regular on the Women's podium since 2006. She was third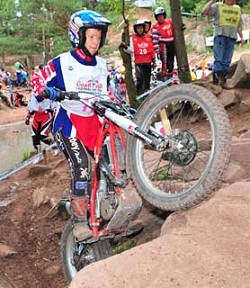 in 2006 and 2007, before enjoying three years as runner up in 2008 through to 2010. After being relegated back to third position by Bristow last year, Cook will be focused on climbing back up the rankings. However, she can expect Bristow to put up another tough fight.

Bristow has steadily risen through the ranks since she first arrived on the scene in 2006. Initially finishing thirteenth in her debut year, Bristow climbed to fourth in 2010, before overtaking her compatriot to take the runner's up prize in last year's series. Sandrine Juffet - JTG from France and Sandra Gomez - Gas Gas from Spain are among the other top female riders to watch out for during 2012. Juffet was fourth overall last year, but finished on the podium in the final round of the series, ahead of Bristow who was fourth on that occasion. Gomez was consistently fifth in all rounds of the 2011 championship and will be hoping to better that by breaking into the top-four or even onto the rostrum this year.

Italian Elisa Peretti - Gas Gas, who turns seventeen next month, will be the youngest rider competing in the 2012 FIM Women's Trial World Championship. Like Sanz, Peretti also made her international debut at the age of fourteen. Blandine Guillaud-Fuggi from France, who has thirty years on young Peretti, will be this year's oldest female competitor. With such a diverse and exciting line-up, 2012 promises to be yet another memorable season.