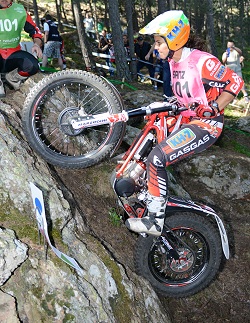 Laia Sanz – Gas Gas opened her title defence with a victory as she dominated the first round of the 2012 FIM Women's Trial World Championship held high in the mountains above the town of San Julia De Loria, Andorra.

Twenty six year old Sanz who already has eleven FIM World titles to her name signalled her intent to make it twelve as she dropped just three marks over the two laps of fourteen sections in blistering conditions and completed the Trial in a little over three hours.

Emma Bristow – Ossa who finished as runner up to Laia in last year's title race got her 2012 campaign off to a solid start with two consistent lap scores on some very dry and dusty terrain to come home in a comfortable second place. Lap totals of seven and nine included eight marks on section eight where Emma was to record her only maximum of the Trial during her second visit. Despite this setback, Bristow still enjoyed an eight mark advantage over Sandra Gomez – Gas Gas who claimed the last podium place.

Third spot marked Gomez's best ever result at this level, her previous highest placing being fourth in the Czech Republic back in 2010. The now nineteen year old who was ranked fifth in last season's final standings could just prove to be the rider on the move this year. Very much at home on the Spanish-like terrain, Gomez passed through the twenty eight sections without a single five. Her rostrum position was in the balance right until the last hazard, as she fought off the attentions of fourth placed Sandrine Juffet – JTG.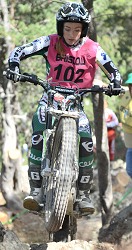 Juffet from France who turned twenty-two years old just last month showed great maturity and composure after she notched up two maximums on her first lap, but still managed to hold her concentration. Whilst the second of these was on the difficult number eight section, her first failure came in the fourth hazard as she fell back off the opening step. Her total for the day of twenty-six marks saw her beat Rebekah Cook – Beta by three marks, as the British rider did not enjoy the best of days.

Cook produced a better second lap to prevent herself slipping further down the order as Spain's Mireia Conde – Beta threatened to break into the top five for the first time. Conde's sixth place equals her previous best finish, which she achieved again in Andorra back in 2009. Australia's Kristie McKinnon – Gas Gas made her long trip to Europe very worthwhile as she claimed seventh position, which marked a new personal best result for the twenty-seven year old.

Tomorrow will see the second counting day for the Women, with only minor modifications being planned to a course that provided a good opening test to the 2012 campaign for the eighteen female riders who took part today.
Final Results
1. Laia Sanz - 3
2. Emma Bristow - 16
3. Sandra Gomez - 24
4. Sandrine Juffet - 26
5. Becky Cook - 29
6. Mireia Conde - 35
7. Kristie McKinnon - 42
8. Sara Trentini - 50 (14 cleans)
9. Martina Balducchi - 50 (11 cleans)
10. Blandine-Fuggi Guillaud
Full results from this event are available for download in PDF format