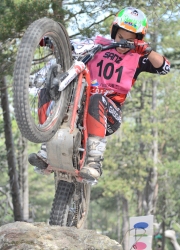 In an almost carbon copy of yesterday's performance Laia Sanz – Gas Gas once again dominated proceedings high in the mountains of Andorra. Simply in a class of her own Sanz ran out a clear and easy winner on the second day of the event in Sant Julia De Loria, which marked the opening round of the 2012 FIM Women's Trial World Championship.
Losing three marks on each lap, which was slightly more than her tally of twenty four hours earlier, Laia's losses were mainly restricted to the same two sections on each of her tours. It was these same two hazards that had been modified overnight in order to challenge the already eleven times FIM Women's Trial World Champion. Her heaviest loss being two marks in section eight on her second lap. Sanz now leads the general standings by a healthy eight points ahead of the summer break.

Going one position better than yesterday, nineteen year old Sandra Gomez – Gas Gas took the runners up spot on day two as she beat Rebekah Cook – Beta on a tie decider. Gomez was locked on fourteen marks with yesterday's runner up Emma Bristow – Ossa at the halfway stage, but held her nerve brilliantly on the closing lap whilst her more experienced rivals felt the pressure. For the second day in a row Gomez recorded a new personal best result as she moved another step higher on the podium compared with her finishing position yesterday. Sandra stole second place from Cook due to her having one more one than her rival, after the pairing had tied on twenty five marks apiece and had the same number of cleans.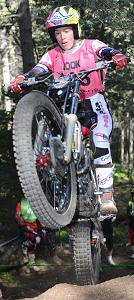 Despite losing out to Gomez, Cook was happy to be back on the rostrum after her fifth place finish on day one. The ex vice FIM Women's Trial World Champion now sits fourth in the series standings, four points behind her compatriot Bristow. A five in section four for Emma spoiled her day and ruled her out of claiming the runners up spot for the second day in a row. Bristow is now third in the general standings, two points short of Gomez and will need to use the break before the next round to regroup if she is to be a serious challenger to Sanz this year, like some had predicted after her improvement last season.

Sandrine Juffet – JTG came home in fifth place today, and not far off the pace of the leading quartet. With her fourth position on Saturday, and another top five placing today, the French rider certainly deserves to be holding fifth spot in the intermediate rankings. Alba Villegas – Sherco enjoyed a much better outing on day two, her sixth spot finish being a marked improvement on the eleventh position she scored on day one.
Another Spanish rider, this time in the form of Mireia Conde – Beta took seventh, whilst Kristie McKinnon – Gas Gas from Australia was classified in eighth. The Italian pairing of Sara Trentini – Beta and Martina Balducchi – Scorpa rounded out today's top ten.

The Women's series will now take a summer break before resuming in Switzerland in September for another two day event.
Final Results
1. Laia Sanz - 6
2. Sandra Gomez - 25 (19 cleans, 2x1)
3. Becky Cook - 25 (19 cleans, 1x1)
4. Emma Bristow - 26
5. Sandrine Juffet - 30
6. Alba Villegas - 35
7. Mireia Conde - 36
8. Kristie McKinnon - 37
9. Sara Trentini - 41
10. Martina Balducchi - 49
Championship Standings

1. Laia Sanz - 40
2. Sandra Gomez - 32
3. Emma Bristow - 30
4. Becky Cook - 26
5. Sandrine Juffet - 24
6. Javier Conde - 19
7. Kristie McKinnon - 17
8. Alba Villegas - 15
9. Sara Trentini - 15
10. Martina Balducchi - 13
Full results from this event are available for download