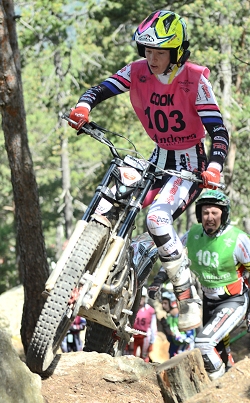 The FIM Women's World championship kicked off last weekend with a double header near Sant Julia De Loria in Andorra. Held high up in the mountains, two of the sections were scottish like streams and the rest were held on dry steep dusty bankings with large rocks.

Miton Top Trial Team rider, Becky Cook arrived in Andorra ready to test and set up her brand new factory bike for the forth coming event. With it being so high above sea level it's very difficult to get the power and response you usually would, but the team had already done some modifications and after first practice she talked with the team and changed the compression slightly and the bike was then running spot on.

Becky didn't get off to the best of starts on day one, messing up the easy first section, this set the tone for the day as she never really found her usual form. Becky struggled to clean the easy sections that would normally not cause her any trouble and she also failed to make up marks on the larger and more technical sections where she would normally shine through as one of the very best. She tried her hardest to get back on track but frustration got the better of her and she finished in a lowly fifth place.

After the trial Becky, her minder Craig and the rest of the team took time to discuss what had gone wrong and help work to get the results Becky is capable of. She was more than happy with the bike but was struggling to settle in the sections and find her balance so the team went out for a late practice and working with Becky they made some minor adjustments which helped.

Day two started better cleaning the first three sections but she was still not at her best on the harder sections and found herself in fourth place after the first lap but only two marks behind Emma Bristow and Sandra Gomez. It was still all to play for and Becky knew she really needed a better result and was determined to get it. After a stunning clean on the difficult section four things were starting to come come together and she went on to record one of only three lap scores in single figures, the other two coming from winner, Laia Sanz. This elevated her into joint 2nd position with Spanish girl, Sandra Gomez. With both riders having the same number of cleans it went down to most ones and a gutted Becky looked on as it came up on the scoreboard, Sandra had two ones and Becky only one.
Becky said at the end "This weekend has not gone the way I wanted, in hindsight it was not a good idea to come to this event on a brand new bike but we had no option so I had to just get on with it! The Bike is awesome and I can't wait to get back out to Italy in a couple of weeks to ride it some more. I am relieved to get on the podium after yesterday's disaster but it's gutting to lose out on second on a tie break. I'd just like to thank Craig and the rest of the team for all there help this weekend and thankfully we've still got three more rounds to fight for the win which I know I'm capable of."