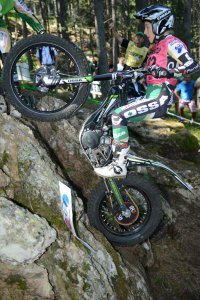 Emma Bristow – Ossa heads to Tramelan, Switzerland for the second round of the 2012 FIM Women's Trial World Championship with ground to make up on her main rivals. Following the opening round of the current series held high in the mountains of Andorra back in June, Bristow sits third in the general standings after placing second and then fourth over the initial two days of competition. Ten points separates Emma from the championship leader and reigning FIM Women's Trial World Champion Laia Sanz – Gas Gas, as the female riders approach the mid-point in the three round campaign.

As runner-up to Sanz in last year's FIM Women's Trial World Championship, Bristow started this season as the favourite to push Laia in the race to the 2012 title. This looked to be ringing true as Emma followed the Gas Gas factory rider home on day one in Andorra, though her challenge was to take an early knock as she failed to reach the podium twenty-four hours later. With Sanz taking the win for the second day in a row, she was joined on the rostrum by Sandra Gomez – Gas Gas and Rebekah Cook – Beta, as Bristow missed out on the runners-up spot by a single mark on this slightly cruel occasion.

Twenty-one year old Emma currently sits two points behind Gomez in the championship table, only four points better off than her compatriot and long time rival Cook. Cook recently clinched the UEM Women's Trial European Championship at the final round in Holland in the absence of Sanz who continues to recover from a severe injury to her foot, which was sustained during an enduro after the opening Trial event in Andorra. With Sanz set to return to action in Switzerland this coming weekend, Bristow knows that she will need to be back at her best if she is to make ground on her closest contenders and if she is going to capitalise fully on Laia's recent lack of time on her bike.

Speaking ahead of this weekend's second double-header event Emma said. "Andorra seems a long time ago now, which is perhaps a good thing as day two didn't exactly go to plan. The good news is since then I feel that I have been riding well, I just need to translate that into some decent results. Now is the right time for me to turn my season around. We have got three counting days to go and I need three strong results, it's that simple. We all know that Laia has been injured and that this might be our chance, but we also know that she is a very strong and determined rider so it will still be difficult to beat her."

Bristow continued. "My riding is good I just need to keep my head better during the competition. We have made a few adjustments to the bike and now I feel the most confident I have done for a long while. Rebekah (Cook) will be strong this weekend, she always is and especially after winning the Euro series. Sandra Gomez is also riding well this year, she seems to have really good concentration, although she is a good rider I should be beating her if I ride to my full ability. I am looking forward to the weekend and I am ready to get things back on track."