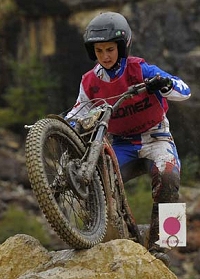 Nineteen year old Sandra Gomez – Gas Gas heads to Moutier, Switzerland this coming Friday for the final round of the 2012 FIM Women's Trial World Championship with a real chance of moving up the final rankings if she can recreate the kind of form that she showed earlier in the season. After the opening two days of competition in Andorra back in June the young Spanish female rider sat second in the series behind her dominant compatriot and now twelve times FIM Women's Trial World Champion Laia Sanz – Gas Gas. However in conditions completely different to her native land at last weekend's event in Tramelan, Switzerland Gomez only managed to place fifth on both days, which now leaves her in fourth spot in the general standings.
Sandra currently trails Rebekah Cook – Beta by just two points in the championship table, with the female final order being decided by the best three results from the five days of competition. Gomez will need to get the better of her more experienced rival this Friday if she is to climb into the top three for the first time in her career. Last year the teenager placed fifth in the series with her best result being fourth place at the opening round in Germany. This season Sandra immediately improved her personal best performance by placing second and then third over the two days of competition set in the mountains of Andorra.
The Gomez family has a good Trial pedigree, with her father a keen rider and follower of his daughter's career and her elder brother Alfredo a former FIM Junior Trial World Champion. Alfredo clinched his title in 2011 before moving over to the sport of Enduro. Sandra has also benefitted from the close attention of Sanz who has taken a keen interest in helping develop her younger compatriot, so that she may take over the Spanish mantle once Laia's long reign is finally over. Gomez will take her place in the Spanish Women's squad at the FIM Women's Trial des Nations this Saturday alongside her mentor Sanz, and Mireia Conde – Beta as the trio look to defend their team title.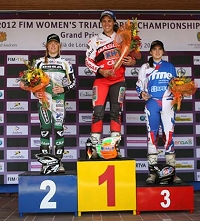 Speaking about her campaign to date Sandra explained "I think I have been having a good year, because in the winter I could not practice due to breaking my ankle at the World Enduro in France last season, so it has been going OK so far as I am coming back from injury. I would like to get third place in the championship as last year I finished fifth. I think that it is possible to catch Rebekah, but I do not want to put myself under too much pressure to get it, I just need to take it easy. I finished second and third in Andorra, things went well for me there, that is where I had my first win with the National team so I love that place."
"Last weekend it did not go that well because it rained so much and everything was slippery so I struggled a lot. In Spain it has not been raining in four months so it has been difficult to practice in wet conditions."
Realistically Gomez will know that she will at least need to be back on the podium this Friday if she is to seize her chance to overtake Cook for third spot in the final rankings of the 2012 FIM Women's Trial World Championship.