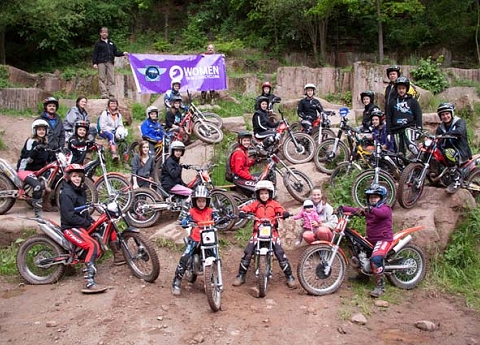 Grossheubach, Germany was the venue for the recent Women's Trial Training Camp. Here more than twenty female riders gathered in order to enjoy an intense three day session to be ready for the new season with the 2013 FIM Women's Trial World Championship getting underway in just over a week's time in Andorra.
Organised and led by FIM Women's Advisor Iris Oelschlegel (formerly known as Iris Kramer) the riders of all abilities from novice through to expert and with ages ranging from seven, right up to fifty-two years old were put through their paces in almost perfect weather conditions with only light rain falling on the third and final day.

Day one got underway at nine o'clock sharp and saw all the riders meet together and under go a warm up program away from their bikes, after which they were then split into their respective ability groups and were assigned a coach. With one instructor per five riders, the women were treated to a pair of three-hour intensive sessions, one before lunch and one after lunch. Even the younger age group aged between seven and nine years old on their automatic machines enjoyed a full and rewarding opening day.
The full spectrum of female riders was well represented, with the top group being actual FIM licence holders who will compete in Andorra next weekend. These riders focused on practising the new no-stop rules which they will apply at round one of the 2013 FIM Women's Trial World Championship in a little over seven days time.
Away from the intense training sessions the riders and their support teams enjoyed a special dinner on the evening of the second day, when over fifty like minded people sat, ate and discussed the sport of Trial in great detail and at great length, although always punctuated with much laughter.
In addition to her duties as event organiser Iris also spent time actually training with, rather than coaching, the top group as she and the other expert riders really got to grips with the art of riding no-stop and understanding just how much fun it is to ride under the new rules.

Commenting on the three days of activity the former FIM Women's Trial World Champion said, "I would like to thank all the riders who attended the recent FIM Women's Trial Training Camp for their support and commitment throughout the event. The girls worked extremely hard and made good progress as they worked on the various different parts of their riding. There was an incredible family atmosphere and it was a great opportunity to bring together so many female riders of all ages and abilities."

"I hope we can organise something similar again later in the year, as there is certainly a lot of interest from all the Women riders to continue the training process."

Iris added her final words, by saying,"I would like to wish all the girls every success for the forthcoming season, and especially those who will be heading to Andorra next week for the start of he 2013 FIM Women's Trial World Championship."