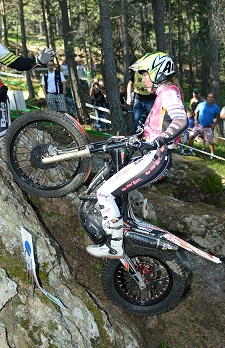 For the second year in a row Andorra will have the privilege of playing host to the opening round of the FIM Women's Trial World Championship, once again this event will take place alongside a round of the FIM Trial World Championship that has already stopped off at two venues outside of Europe. This season, under the new no-stop rules, that also mimic those adopted by their male counterparts, the Women will contest five counting days over three rounds, with the best three results determining the final order.

Sadly for the series, twelve times FIM Women's Trial World Champion Laia Sanz will not be present in Sant Julia de Loria, with her instead contesting a round of the Maxxis FIM Women's Enduro World Cup in Romania on the same date. With Sanz absent and unable to open her defence as normal, 2012 FIM Women's Trial World Championship runner-up Emma Bristow will find herself promoted to become the favourite to lift this year's title. Although Bristow more than deserves her new-elevated status, due to her more recent results alone, she will face a new challenge in having to cope with the increased pressure.

Second to Bristow at the opening round of the UEM Women's Trial European Championship in the Czech Republic earlier this month, Spain's Sandra Gomez – Ossa looks to be Emma's biggest threat on paper and was in strong form as she closed out her 2012 campaign. Gomez's runners-up spot on the last day in Switzerland, her second of the year, was enough to steal third place in the final standings away from the much more experienced Rebekah Cook – Beta. Cook was absent from the opening Euro event, and had no answer to Cook at the Scottish Six days Trial, and in truth has lacked the form she showed a few seasons ago when she was second in the series to Sanz for a three year run from 2008 to 2010 inclusive.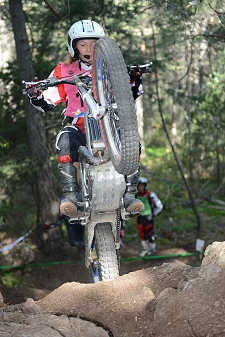 Hopefully Cook will use the opportunity of the opening encounter of the 2013 FIM Women's Trial World Championship to refocus herself, so that she can once again be back amongst the front runners. At twenty-six years old Cook will have to fight off the threat of the younger female riders who are making their presence felt on the World scene. France's Sandrine Juffet – JTG aged twenty-three, placed fifth in the series rankings last year much due to a string of consistent performances, which included three fourth positions from five starts. She is a rider that could well move into the top three this season if she can continue to improve the form she has previously shown.

Britain's Donna Fox – Beta made a welcomed return to the latter part of the championship in 2012 having missed the opening event and confirmed that she had lost none of her ability or drive as she immediately slotted back in with a trio of sixth spot finishes that gave her the number six bib come the close of the campaign. With Spain's Mireia Code – Beta and another British rider this time in the form of Katy Sunter – Gas Gas rounding out last year's top eight respectively, competition amongst the leading female protagonists is once again bound to be closely fought.
Twenty four Women from six nations will begin battle in Andorra this coming weekend, before having to wait until late August to continue their fight, which will finally come to a close in France in early September. Although the title will not be decided in Sant Julia de Loria, the initial action will serve as a good gauge for the remaining rounds.