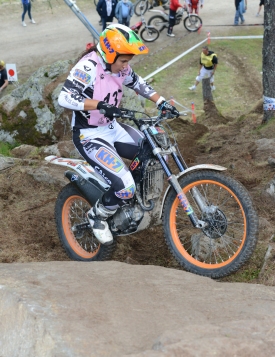 Laia Sanz – Montesa completed a perfect return to the FIM Women's Trial World Championship when she followed up yesterday's win with her second victory of the weekend earlier today. Her back to back wins at the French Grand Prix held at Isola 2000 has now set up a tense finale next Friday, when Sanz will have the chance to clinch her thirteenth title if she can make it three wins from three starts. Once again Emma Bristow – Sherco was forced to play the bridesmaid despite pushing the reigning champion throughout the whole day. Bristow finished just five marks behind her arch rival and well clear of her British compatriot and early series leader Rebekah Cook – Beta.
The rain that had been forecast never actually materialised before the girls had completed their second day of three laps of twelve sections, which were spread around the slopes that surrounded the ski resort. Sanz and Bristow werelocked in battle right from the off, with there only being a single dab between them as Laia went clean on the first lap. It was midway through the second lap that Emma lost vital ground to her main title rival as she clocked up five marks, by dropping two twos and a one through hazards six, seven and eight respectively. Sanz parted with only a single dab over the same run and had now created herself a healthy advantage in what was to be a low scoring Trial for the top two riders.
Bristow managed to match Sanz through the closing twelve sections, as they each dropped two marks apiece on their respective final laps, but this was not enough to prevent Laia taking her second win in two days and putting herself in a good position ahead of next Friday's showdown in La Chatre. Sanz will compete in the final round of the 2013 FIM Women's Trial World Championship before then immediately heading off to contest the last round of the 2013 Maxxis FIM Women's Enduro World Cup next weekend, with her having a good chance of taking both titles as she did in 2012.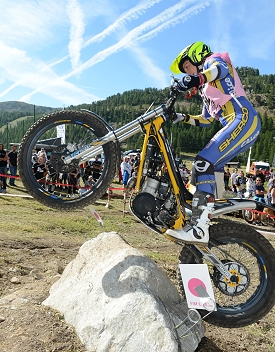 Behind the leading duo there was fierce competition for the last remaining podium place. This would eventually go to Cook, but only by the margin of two marks as she had to hold off her compatriot Katy Sunty – Gas Gas who equaled her best ever result by taking fourth place as she did on the second day of the opening round in Andorra. Cook and Sunter continue to hold second and fourth spots in the general standings respectively, based on their best three results to date, and ahead of the final counting day in France next Friday.
Spain's Mireia Conde – Beta came within four marks of making it on to the rostrum, but in the end had to settle for her third fifth place of the season. Conde reduced her lap score on each lap to finish strongly and to beat her Spanish compatriot Sandra Gomez - Ossa by a single mark. Gomez did not enjoy the best of days down in sixth position, including a five in the very last section of the day that was to cost her dearly. Despite this Gomez remains third in the championship table, whilst Conde stays in fifth place overall.
Two German riders in the form of Ina Wilde – Sherco and Theresa Bauml – Ossa filled the next two places in seventh and eighth, with only three marks separating this pairing after a day long battle. Wilde who has only ridden at this round now holds twelfth in the points table, whilst Bauml's consistency over the two rounds and four counting days to date has earned her eighth spot in the general standings at this stage of the season. Nikita Smith – Gas Gas and Sara Trentini – Beta completed today's top ten in ninth and tenth places respectively.
Womens Championship Final Results
1. Laia Sanz - 3
2. Emma Bristow - 8
3. Becky Cook - 25
4. Katy Sunter - 27
5. Mireia Conde - 29
6. Sandra Gomez - 30
7. Ina Wilde - 33
8. Theresa Bauml - 40
9. Nikita Smith - 46
10. Sara Trentini - 48
Womens Championship Standings

Best three results count. One day of competition remaining
1. Emma Bristow 69
2. Becky cook - 67
3. Sandra Gomez - 55
4. Katy Sunter - 44
5. Mireia Conde - 42
6. Laia Sanz - 40
7. Marilyne Journet - 30
8. Theresa Bauml - 28
9. Nikita Smith - 25
10. Sara Trentini - 21
Photo Coverage
As the ladies and mens championships were run as one event, photos from the ladies event can be found in our overall photo coverage.


Free Public Photos (15)
Trials Central Supporters Photo coverage (138) - these are our own photos, not general press release pics. Higher resolution and no watermarks