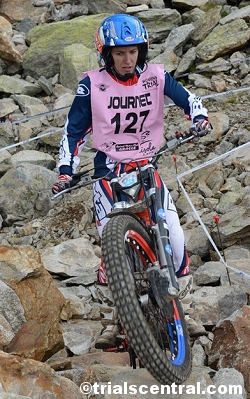 Marilyne Journet – Beta is one lady who is particularly looking forward to the final round of the 2013 FIM Women's Trial World Championship this coming Friday. Although the experienced French rider has been a part of the series from 2001, the championship has only visited her homeland previously in 2006, 2009 and 2010 prior to this year's two rounds. Now twenty-seven years old, Journet is potentially on course to record her best ever finish in the series in this her eleventh full season of top level competition. Up until last weekend's event in Isola 2000 when she finished eighth on day one Marilyne's best result at a home GP was ninth place back in 2010.

Journet has enjoyed somewhat of a rollercoaster career in the FIM Women's Trial World Championship since her debut just over a decade ago. Ranked seventh in her first season, Marilyne failed to improve over the next two campaigns when she placed eighteenth and nineteenth overall respectively. 2006 saw the French female rider make a marked improvement as she moved into the top ten. An eighth place in Andorra and a tenth spot at the Belgium GP was enough to see Journet take ninth in the general standings come the end of the season.

A twelfth position in the Czech Republic followed by a tenth spot on the Isle of Man meant that Marilyne just managed to keep her place inside the top ten in 2007, as she finished a place lower than she had done the previous season. 2008 proved to be another disappointing campaign for the French protagonist as she placed fourteenth in the general standings. 2009 and 2011 followed a similar theme with Journet finishing twelfth and thirteenth respectively. It was only in 2010 when Marilyne momentarily returned to the top ten club, thanks to three consistent showings over the course of the year.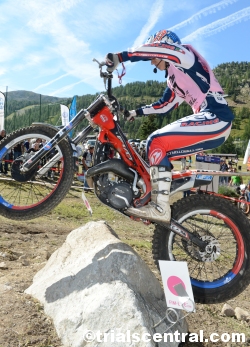 Unfortunately 2012 proved to be the worst season to date for Journet in her many years as part of the FIM Women's Trial World Championship. However showing her true fighting spirit Marilyne has bounced back stronger than ever with a run of strong results this season, that sees her on target to achieve her highest ever ranking as she heads into her home GP this Friday. Journet's fourth place on the opening day in Andorra marked a career high for the twenty-seven year old, a feat she is desperate to repeat in front of her home fans at this year's final round.

Speaking ahead of the closing event of the 2013 FIM Women's Trial World Championship, to be held in France later this week Journet said. "If I am honest the result in Andorra was quite unexpected, in fact I surprised myself with my performance. I rode amongst the top riders so I knew that I was riding well and that I was not making many mistakes at all, but I still did not realise what position I was holding."

"It was not right until the end of the competition that I discovered that I was in fourth place, and then you can imagine both my shock and excitement. I think the result was partly due to the new no-stop rules, which I am very accustomed to and prepared for this season, plus I think they suit my riding style too. Sunday was a little disappointing as I made a crash in the first section and then had a mechanical problem later in the day. But overall I was very happy with my results in Andorra."

Marilyne ended by saying. "My aim is to repeat the same result in La Chatre, maybe even better, though I know it will be hard to be on the podium even at my home round, but I will do my best.