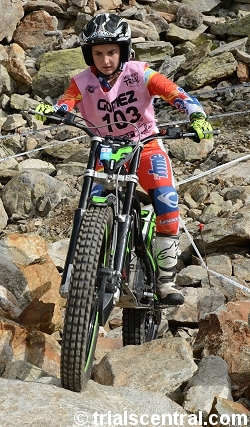 Twenty one year old Sandra Gomez – Ossa has the weight of a nation on her young shoulders as she looks to continue the Spanish domination of the FIM Women's Trial World Championship, when the 2014 series kicks off at Comblain au Pont, Belgium this coming weekend. With reigning champion and compatriot Laia Sanz absent from the entry list due to her other racing commitments, Gomez who was ranked fourth in last year's final standings knows that she is now Spain's best hope of keeping hold of a title that Sanz has won on no less than thirteen previous occasions.
Having just finished her last academic examination for the year, and following an intense period of studying, Sandra can now switch her focus back to trying to capture her first ever FIM World title. Speaking from her home in Spain, Gomez spoke frankly about the forthcoming season. "I am ready to fight for the win, I believe I can win and that will be my goal, but when I say that it is not without recognising my rivals as I know that it will be a tough fight especially with the British girls."

"I feel confident with the bike and really like the Ossa, now I have a good feeling when I am riding which is the most important thing for a rider. During the off season I trained very hard this year, it was the first year since I was riding at the top level that I had the chance to do this as during the last two years my preparations were reduced because of the injuries I had with my ankle and knee."

"With Laia not riding, I have a big opportunity, but so will the other girls too and that means it is sure to be a tough fight. When you look at how Emma Bristow – Sherco and Rebekah Cook – Beta are riding I think it can be close between us depending on the type of Trial. Riding well during training is one thing, but it can be completely different when you arrive at the day of the competition as there are so many things that can change the result, and especially when you are riding with some pressure."

"I have watched Laia for many years so I have had a good teacher, hopefully from what I have seen and what she has helped me with I too can become a champion, it would be a great story for Spain if I could win the title like Laia has done for so many years. Perhaps my best strength is that I am a fighter and I will always fight to the end to get the best result I can, and will always fight with everything I have to try to win, that is just my mentality."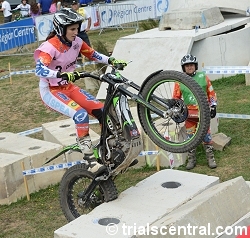 Gomez rounded off by saying. "This will be the first time that I have competed in Belgium, so I am really looking forward to this new experience. I was at Spa Francorchamps before, but many years ago just to watch my brother and to see the other girls riding when I was only very young. Hopefully I can make a strong start to the championship this weekend and after that I can then think about the other rounds later in the year."

Gomez achieved her best placing in the general standings in 2012, when she ended the year in third spot behind Sanz and Cook respectively. During the same season Sandra grabbed her first ever podium place, her maiden third position coming in Andorra. Since then she has recorded results in the top three on four further occasions. 2014 will mark Gomez's eighth year as part of the series, her GP debut being in the Czech Republic back in 2007 when she finished just outside the points in sixteenth spot. Her first points came the following season when she placed thirteenth at her home Grand Prix. During more recent campaigns she has shown that she just could be a champion in waiting, a point she will look to reinforce when the action gets underway this coming weekend.