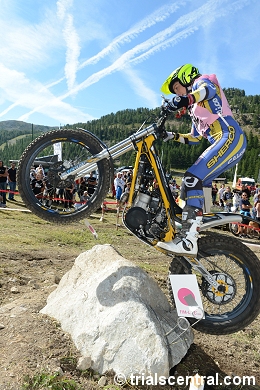 Emma BristowThis coming weekend will see the start of the 2014 FIM Women's Trial World Championship as round one takes place at Comblain au Pont, Belgium. Twenty four riders from six different nations will open a campaign that will consist of three rounds, the latter two will take place in Spain and Andorra, and four counting days that will eventually decide this year's champion. The 2014 season promises to be an exciting prospect, with the real potential of a new champion in the absence of reigning title holder Laia Sanz from the entry list for the Belgium GP due to her other competitive commitments.

Last year's World number two Emma Bristow – Sherco must start the new campaign as favourite after having come so close to clinching her first ever FIM Women's Trial World Championship, only to be narrowly defeated by the dominant Sanz during a last round showdown. Twenty three year old Bristow grabbed her first ever Trial Grand Prix win in 2013 as she and her British compatriot Rebekah Cook – Beta shared the honours at the opening two-day event in Andorra.
Having followed Sanz home during the last three seasons Bristow will be desperate to go one better this year and to add to her achievement of becoming the 2014 FIM Women's Superenduro World Cup winner.

At twenty seven years old Cook is the most experienced of the title contenders having made her debut in the series at the Spanish GP back in 2004 just after her eighteenth birthday. Over her ten seasons to date Rebekah has been highly consistent, only dropping out of the top three once during the last eight years. Cook's best two finishes came in 2008, 2009 and 2010 when she finished as runner-up to Sanz three times on the bounce before having to succumb to the rise of Bristow in more recent seasons who has taken over the bridesmaid role. Newly married Rebekah will be looking to make the most of her honeymoon period when she arrives in Belgium, and is sure to be hungry to take victory once again especially in Laia's absence.

Ranked fourth in 2013, Spain's Sandra Gomez – Ossa is the lady most likely to challenge the two more established British riders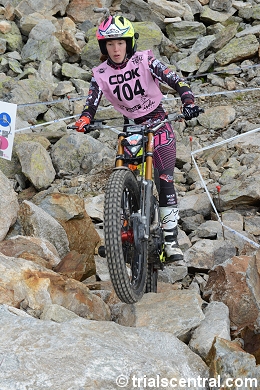 Becky Talbot (Cook)having enjoyed an injury free off-season for the first time in three years. Gomez scored her best ever result on the opening day of the 2013 season held in the mountains of Andorra, when she placed second behind Cook. Sandra was back on the podium the following day with a third spot, although her closing run of 4 – 6 – 4 over the last three counting days was not enough to maintain her previous year's ranking when she finished third overall, and consequently she dropped to fourth in the final championship positions. With a strong period of preparation behind her, Gomez will be looking to improve in 2014 starting with a good showing in Belgium this weekend coming.

Britain's Katy Sunter – Gas Gas enjoyed her best season to date in 2013 as she twice placed fourth to record fifth in the general standings, and is yet another rider who will be looking to climb the order this time around. Sunter edged out Spain's Mireia Conde – Beta by a mere three points in what proved to be a fierce three-way battle. French rider Marilyne Journet – Beta came off the worst in this fight and had to finally be content with seventh overall. Sara Trentini – Ossa, Theresa Bauml – Ossa and Ina Wilde – Sherco are just a few of the other riders who are capable of causing an upset on the day based on their form last season.
Sadly Britain's Nikita Smith – Gas Gas will not be present in Belgium following a recent road accident that has left her seriously injured. The Trial community sends its best regards to her and her family during this difficult period and wishes her a full and speedy recovery. This weekend's Trial will mark the first of four counting days, with the best three results being used to determine the eventual champion and final order. Let battle commence.