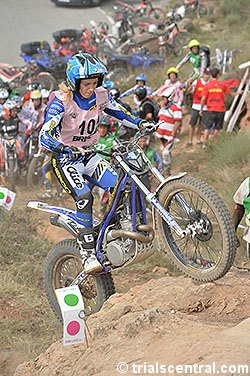 Emma BristowEmma Bristow – Sherco had to produce a last lap fight back to win the opening day of the second round of the 2014 FIM Women's Trial World Championship held at Arnedo, Spain. The British rider, who won the opening round in Belgium, trailed Sandra Gomez – Ossa by six marks after two out of the three laps of ten sections, but rode a strong closing lap to final take the victory by seven marks. Gomez who had dominated the Trial during the early stages was unable to make her advantage count and suffering three fives on her last lap as she fought to finish within the five hour and twenty minute permitted time. Gomez was to incur three time penalties, as five out of the top ten female finishers suffered a similar fate.
Mireia Conde – Beta produced her best ever result as she placed third at her home Grand Prix to make it two Spanish riders on the podium. Conde was consistent throughout the competition to end with a score of twenty eight marks, just four back from her compatriot Gomez. Germany's Ina Wilde – Gas Gas also achieved her highest ever finish as she took fourth position in what was a tight three way scrap for the last rostrum spot. Theresa Bauml – Ossa ended her day in fifth, just four marks of a top three placing, but in doing so recorded her best result to date in the series.
Although today's Spanish GP comprised of dry rocks and dusty bankings, it proved to be equally as slippery as the mud had been at round one in Belgium. The steep and loose climbs were unforgiving at times, but thankfully for the riders the searing heat of the previous day never materialised after the Trial had started an hour earlier than normal in an attempt to avoid the soaring afternoon temperatures.
Section six proved to be one of the toughest for the near thirty strong field of female competitors and was almost Bristow's undoing as she twice failed it on her final two visits. Emma dropped thirteen of her seventeen marks in this one hazard, compared to the eight marks that her closest rival, Gomez parted with in the same zone. Sandra's clean in this difficult and technical hazard on lap one was the only one recorded here all day and set her on her way as she initially pulled clear of Bristow with a clean opening lap.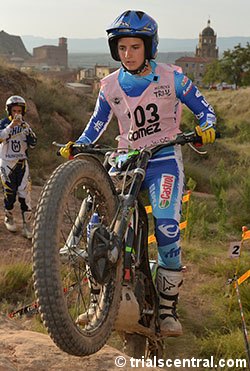 Sandra GomezGomez who was third at the opening encounter in Belgium extended her lead over round one winner Bristow by dropping just six marks on lap two compared to the eight marks lost by her British rival. Looking odds on to record her first ever GP win, and at her home GP of all places, Sandra's dream fell apart mid way round the final lap as she notched two fives in section five and six before then taking another maximum at the eighth hazard as she raced to finish in time. Both Gomez and third placed Conde ran three minutes over their allotted time allowance.
Runner up in Belgium Rebekah Cook – Beta did not have a good day at the office today when she slumped to sixth place as she too fell foul of the tight time limit with her eight incurred time marks costing her a place on the podium. Spain's Elisabet Solera – Gas Gas scored her highest ever placing in seventh and led home two more Spanish riders – those being Maria Giro – Beta and Berta Abellan – Sherco in eight and ninth spots respectively – as both of these young female contenders also achieved career best results. Britain's Katy Sunter – Gas Gas rounded out the top ten having not found the dry and dusty going to her liking.
The Women will resume battle tomorrow over a similar course, as Bristow looks to finally seal the title that has eluded her for so long. She leads Gomez by eight points in the general standings, but with the best three from four counting days being used to decide the championship, Emma can claim her first crown tomorrow if she wins again.
Final Results
1. Emma Bristow - 17
2. Sandra Gomez - 24
3. Mireia Conde - 28
4. Ina Wilde - 30
5. Theresa Bauml - 32
6. Rebekah Cook (Talbot) - 36
7. Elisabet Solera - 45
8. Maria Giro - 50
9. Berta Abellan - 51
10. Katy Sunter - 60
11. Neus Murcia - 69
12. Pauline Masanes - 73 (11 cleans)
13. Sara Trentini - 73 (10 cleans)
14. Sarah Bauer - 76
15. Mona Pekarek - 80
Photo Coverage
All photos are our own and will not be seen anywhere else. As this was a combined event with the men's Championship, Women's and Men's photos are in one combined gallery.
Free Public Photos (12)
Trials Central Supporters Photo Coverage (160) - Supporters photos are high resolution and carry no watermarks.