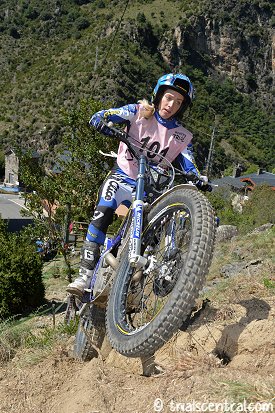 Reigning FIM Women's Trial World Champion Emma Bristow – Sherco will open the defence of her title this coming weekend in Sokolov, Czech Republic and has declared that she is ready to fight to retain the crown that she finally captured last season. The 2015 FIM Women's Trial World Championship will be contested over three rounds and five counting days, with the best four results determining the eventual and overall winner of the series. After this weekend's initial encounter, the female challengers will then have to wait until later in the year to compete in the closing two events that will be hosted at two different venues in Spain over consecutive weekends.
It was in the small and mountainous principality of Andorra, close to the Spanish border, last September where Bristow finally realised her dream after having been runner-up in the championship the previous three seasons. Emma joined an elite group of ladies by being crowned champion in 2014, as she became only the third winner of the FIM Women's Trial World Championship alongside Spain's Laia Sanz and Germany's Iris Kramer since it was first introduced back in 2000.
Now twenty-five years of age, this will be Bristow's tenth season on the World stage with her having made her debut in the FIM Women's Trial World Championship in 2006. With thirteen times champion Sanz absent from the series for the first time since its inception, Emma seized her opportunity to become the new queen of Trial with victories in Belgium, on the second day of the Spanish Grand Prix and then at the closing round in Andorra. Bristow was only beaten once during the 2014 campaign, that being by her British compatriot and long time arch-rival Rebekah Cook – Jgas who ended the year as runner-up in the overall standings.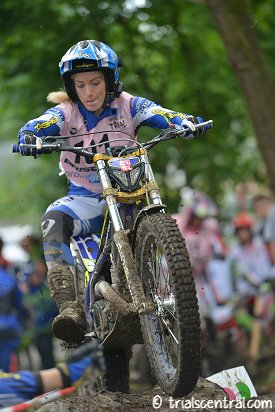 Speaking about her preparations and looking ahead to the opening round Emma said. "Training over the winter has been going really well and I feel even stronger than I did last year at this point. The bike is awesome and I am confident it can be a good season again."
"People talk about the added pressure of now being the defending champion and having the target on your back so to speak, but I can honestly say that it will not make any difference to me. Like last year I am just going to focus on riding my best and see what happens as the events unfold."
"Each year recently there is always the story if Laia will ride in the championship or not. From my point of view I would like to see her return to the series, the more girls the better as that is what the championship needs right now. Having fifty girls at the final round in Andorra last year was brilliant and is something I hope we can repeat again this season."
"I might be the current champion, but I am aware that there are a lot of good young girls coming through both from Britain and other countries. They need to make sure they work hard and do the training that is required, as nowadays you can't just turn up and expect to get a result as the level at World championship is increasing all the time."
"I am extremely proud of winning the FIM Women's Trial World Championship last year and it is something I want to defend very strongly, starting this weekend in the Czech Republic."