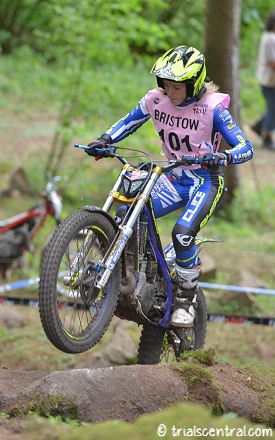 Reigning and defending FIM Women's Trial World Champion Emma Bristow – Sherco made amends for missing out on the top spot yesterday as she rode to a convincing victory on the second day of the Czech Republic Grand Prix. Today Bristow was simply in a class of her own, coming home seventeen marks ahead of surprise runner up Ina Wide – Gas Gas, this being the German rider's best ever result at this level. Day one victor Rebekah Cook – Jgas was unable to repeat her opening day performance and had to be content with taking the last step of the podium this time out.
With no further rain and clear blue skies with long intervals of sunshine, the female riders faced a much drier second day of competition, and a slightly altered course with modifications having been made to around a third of the sections following an analysis of Saturday's results.
Still raw from her unexpected defeat on Saturday, Bristow emerged looking much more like a defending title-holder and made light work of the sometimes now dusty sections. A single dab in one of the few remaining muddy ruts early in the opening hazard of the day was the only mark that Emma parted with on lap one. Today it was the turn of Cook to struggle slightly as she notched up nine marks on her first lap, five of those coming when she failed at section five. This was only enough to put her in an interim third spot, as Sandra Gomez – Scorpa was holding second place at this stage with a loss of just six marks through the initial twelve hazards.
Gomez was unable to maintain the same kind of form over the closing two laps and with a total of thirty five marks for the day she was to miss out on being on the podium for the second day in a row and had to settle for fourth position on this occasion. In contrast, Wilde who had started poorly rode herself back into to contention with lap scores of six and then seven respectively on the last two laps. This amazing closing display by the twenty five year old, tall German rider, which was only bettered by eventual winner Bristow, deservedly netted her second spot on the day. Previously her best finish was fourth in Spain last season.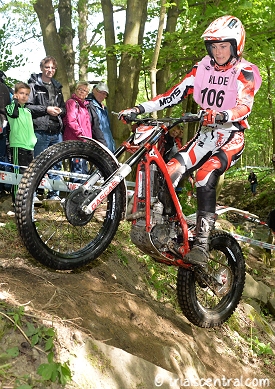 Bristow followed up her incredible first lap showing with two equally strong laps to confirm that her day two victory was in no doubt. With Wilde, Cook and Gomez slotting into the next three positions, it was Donna Fox – Sherco who completed the top five on day two. This complimented Fox's fourth spot on Saturday which marked a strong return to the series for the experienced British rider.
Theresa Bauml – Ossa from Germany, the Spanish pairing of Elisabet Solera – Ossa and Mireia Conde – Beta filled places sixth, seventh and eighth respectively, leaving it to Italy's Sara Trentini – Sherco and Berta Abellan – Sherco to close out the top ten in that order on the second day of competition for the girls in the Czech Republic.
With two out of the five counting days now completed, and the best three results being used to decide the eventual champion the initial overall standings to date only give an indication of what might happen come later in the campaign. Bristow currently heads the points table on thirty seven points, with Cook in a close second place just two points shy of the series leader. Gomez sits third in the general standings after the opening round, two points in front of Wilde who in turn leads Fox by the same margin to complete the initial top five in the general standings.
The 2015 FIM Women's Trial World Championship now takes an extended break before resuming in Jerez Spain come mid September.
Final Results

1. Emma Bristow - 13
2. Ina Wilde - 30
3. Becky Cook - 35 (23 cleans)
4. Sandra Gomez - 35 (22 cleans)
5. Donna Fox - 38
6. Theresa Bauml - 46
7. Elisabet Solera - 48
8. Mireia Conde - 51
9. Sara Trentini - 54
10. Berta Abellan - 57 (17 cleans, 5x1, 4x2)
11. Sarah Bauer - 57 (17 cleans, 5x1, 2x2)
12. Maria Giro - 64
13. Jess Bown - 70
14. Kathrin Dohla - 77
15. Neus Murcia - 80
pdf Download Full Results (103 KB)
Photo Coverage
As this was a joint event with the Men's Championship, our photo coverage from both can be found in the Men's news article here