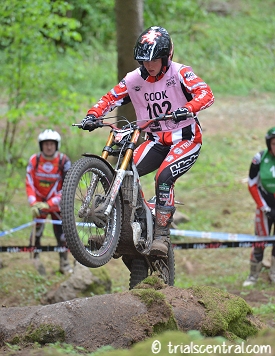 Whilst she is one of the more established names of the FIM Women's Trial World Championship, Rebekah Cook – JGas remains a lady of few words. Despite her almost silent presence in the paddock she is widely and warmly regarded by her female rivals, none of who would dare to doubt her deadly ability once she is astride her bike. A win on the opening day in the Czech Republic of the current series confirms that Cook remains a true title contender even a decade after she made her debut on the World stage.
Never one for self promotion and always very keen to avoid the limelight despite her nine national titles, one European crown and having been a member of Great Britain's winning team at the FIM Women's Trial des Nations on five occasions, not much is known about the private life of the quiet lady who resides on the Isle of Wight. With the 2015 FIM Women's Trial World Championship currently enjoying its traditional summer pause, it seemed the perfect moment to catch up with Rebekah to learn more.
Still choosing to use her maiden (unmarried) name in her sporting arena Cook explained. "Unfortunately I have a real job when I am not riding Trial. Five and sometimes five and a half days a week you can normally find me working in the family business doing a whole range of different things from driving a lorry to having to deal with paperwork in the office. We are basically a haulage company, but we also sell sand and stone, most of which we import from the mainland."
"My husband Craig Talbot, who I married last June after having been together since 2010 also works in the business, as does my brother. As you would expect I met Craig through Trial and we have been a couple since he started minding for me five years ago. He has been a big influence on my career. Sometimes it's difficult as he is too close and too passionate, and about wanting me to win, and gets upset if I don't ride well. But on the other hand he will do everything possible to help me reach my goal."
"Steve Saunders has been the other person who has helped me a lot. He has been training me since I was around twelve-years-old, which is a long time ago now. I got to know Steve when he worked at BVM Motorcycles who used to be one of my sponsors. Steve has taught me so much and has been a calming influence especially when he is my minder at British events. Although he has really helped me improve my technique overall I am still not as good as him at riding in the mud."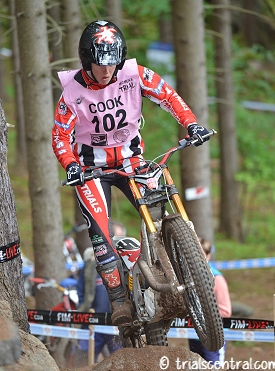 "The summer break works quite good for me as the lighter nights means I can practice more than normal in the evenings when I have finished my day job. Also it gives me time to cycle, which is becoming a big hobby and also a good way of training. I started mountain biking a few years ago, but now I am doing more road cycling including riding to work most days. The island is a great place to cycle with some good roads and some even better views. I recently did a one hundred mile cycle event, which was super tough, but I still managed to enjoy it."
"Going into the first round in the Czech Republic I knew it was possible to win, but I also knew it would be difficult too. I have won a couple of times now and I need to believe I can win more often, as if I can then I can win the championship too. Each time I ride I do my best to win, but Emma (Bristow) and some of the other girls are strong so it is never easy. I think Sandra (Gomez) will be strong for the last two rounds in Spain, so it should be an interesting end to the season."
Rebekah ended by saying. "All I can do is to keep training hard both on the bike and on the bicycle so that I am ready to fight for the win again when the championship starts again in September."
The second round of the 2015 FIM Women's Trial World Championship wiil take place in Jerez, Spain on 12 -13th September.