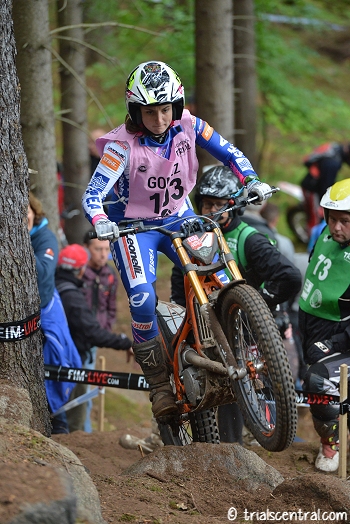 The 2015 FIM Women's Trial World Championship resumes in Teo, Spain this coming weekend with home favourite Sandra Gomez – Scorpa having got work to do if she is to mount a serious title challenge this season. Sandra will be hoping that the second round of this year's series, the first of two in quick succession on home soil that will bring the 2015 campaign to a close, will see a change in fortunes with her having failed to stamp her authority on the championship at the opening round in the Czech Republic back at the end of May.
Twenty-two-year-old Gomez currently sits third in the general standings after the initial encounter behind the leading British duo of Emma Bristow – Sherco and Rebekah Cook – Jgas following her third and fourth positions respectively over the two days of competition in Sokolov. Sandra was very much in the mix during the early part of day one despite the wet and slippery conditions not being familiar terrain for the Scorpa rider. After the first lap Gomez found herself just three marks behind eventual day one winner Cook and just one shy of Bristow who would take the runners-up spot come the finish. However as Saturday wore on Sandra's challenge faded to leave her a distant, but safe third.
Day two played out in a similar fashion with the young Spanish rider again adapting well to the more British like going during the preliminary stages of the Trial as she ran a close second to defending champion Bristow on lap one, but almost in a repeat of twenty-four hours earlier Sandra was unable to sustain her attack. A poor second lap score was to push her down the order and whilst she partially recovered over the final twelve sections the damage had been done and Gomez had to settle for a slightly disappointing fourth spot on this occasion.
Going into this weekend's event in the changed venue at Teo, Gomez trails Cook by seven points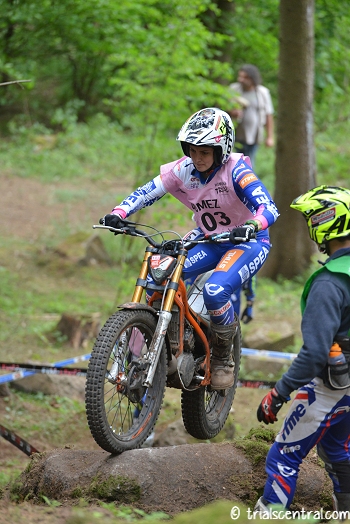 in the championship table and is already nine points behind series leader Bristow, and therefore will be highly focused on making the absolute most of her home advantage on both days of competition. Sandra finished third in last year's FIM Women's Trial World Championship which equalled her best ever ranking that she achieved in 2012.
Whilst still only twenty-two years of age, born on 22nd January 1993 in Madrid, Sandra is already a veteran of the series having made her debut in the Czech Republic back in 2007 aged just fourteen. On that day eight years ago Gomez finished just outside the top fifteen and had to wait until the next season before she registered her first points scoring ride with a thirteenth place at her home GP. Her first ever podium placing came in Andorra in 2012 when she took third position, since then she has featured in the top three eight further times including five runners-up places.
A maiden Grand Prix win still eludes Gomez, but this weekend will provide the perfect opportunity for her to go all out to achieve this next goal and if it was to happen it could not come at a more timely moment as she looks to hunt down both Bristow and Cook in the title race. Sandra is no stranger to success, having already being a winning member of the Spanish female team at the FIM Women's Trial des Nations team competition on no less than four previous occasions.
The 2015 FIM Women's Trial World Championship will play out with two counting days in Teo, Spain this coming weekend followed by the concluding day of the series in Tarragona, Spain on Friday 18th September. With all three remaining days in her home country the stage is set for Gomez to ride herself back into contention.