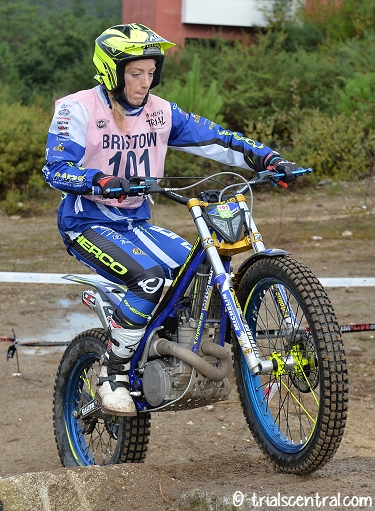 Emma Bristow – Sherco has claimed the 2015 FIM Women's Trial World Championship thanks to her second victory at the Spanish Grand Prix held in Teo this weekend and with one counting event still remaining. Her triumphs on the second day of the opening round in the Czech Republic and her back-to-back wins in Spain mean that she can now not be caught in the general standings with the best three results from five counting days being used to determine the final rankings. This marks Bristow's second FIM Women's Trial World Championship, her first being just last season, however the manner in which she clinched her 2015 crown could not have been closer.
Unlike yesterday, where Bristow rode clear of the field, today with the sections having been eased to offset the effects of heavy overnight rain that continued into this morning and then returned several times during the day scores were much lower on the second day of competition. In the wet and muddy conditions it was Emma's arch rival Rebekah Cook – Jgas who made the early running and stole a narrow but important lead come the close of the first lap of ten sections.
Cook parted with only a single dab in section seven on the opening tour, this compared to the two marks dropped by Bristow over the same period, her single mark rides being in the second and fifth hazard. Rebekah continued to win the battle of nerves on the second lap as she remain totally unpenalised in each and every section, whilst Emma increased her tally slightly with a one mark loss in the tricky seventh hazard.
With only two marks separating this leading British duo, the last visit to the ten slippery sections was always going to be a tight and tense affair, especially as it was potentially going to determine the title too. Bristow held her nerve brilliantly on one of the most important laps of her career to go clean and to heap the pressure on her compatriot. Cook looked slightly nervous as she parted with a dab as early as section two on her last visit and saw her fate sealed when she was deemed to have touch a rock with her foot as she lifted it clear from the footrest in the sixth hazard.
This left Cook and Bristow tied on three marks apiece and with the same number of cleans, one, twos, threes and fives, meaning the tie break was eventually decided on overall time with Emma having completed Sunday's Trial almost eight minutes faster than Rebekah. Bristow's third win of the series was enough for her to take her second crown in a row.
After the disappointment of missing out of a top three placing yesterday Donna Fox – Sherco secured her spot on the podium today in third place to complete the British 1-2-3 she had hoped for twenty four hours earlier. With Cook almost certain of second position in the series Fox is now tied on forty one points with Ina Wilde – Gas Gas with one of this pair likely to seal the last podium place in the general standings come next Friday.
Spain's Mireia Conde – Beta gave the home fans something to cheer about as she took fourth place ahead of Germany's Theresa Bauml – Ossa who finished fifth for the second day running. Norway's Mette Fidje – Sherco achieved a career best sixth position in front of Wilde, who despite her seventh spot on the day remains joint third in the title race. Berta Abellan – Sherco, Sara Trentini – Sherco and Australia's Kristie McKinnon – Gas Gas rounded out today's top ten respectively.
The 2015 FIM Women's Trial World Championship will reach its close in L'Hospitalet de l'Infant, Spain next Friday with many final rankings still to be decided.
Results
1. Emma Bristow - 3
2. Rebekah Cook - 3
3. Donna Fox - 14
4. Mireia Conde - 16
5. Theresa Bauml - 22
6. Mette Fidje - 25
7. Ina Wilde - 25
8. Berta Abellan - 28
9. Sara Trentini - 29
10. Kristie McKinnon - 33
11. Jess Bown - 35
12. Maria Giro - 37
13. Sarah Bauer - 42
14. Elisabet Solera - 46
15. Ingveig Hakonsen - 48
16. Neus Murcia - 57
17. Erika Melchior - 58
18. Chloe Richardson - 59
19. Keity Meier - 68
20. Mona Pekarek - 68
21. Madeleine Hoover - 76
22 Julie Sandanger - 76
23. Victoria Payne - 85
24. Alba Lara - 97
25. Kaitlyn Cummins - 123
pdf Download Full Results (110 KB)
Download Championship Standings
Photo Coverage
As this was a joined event with the final round of the Men's World Championship, our photo coverage can be found with that of the Men's Trial by clicking here