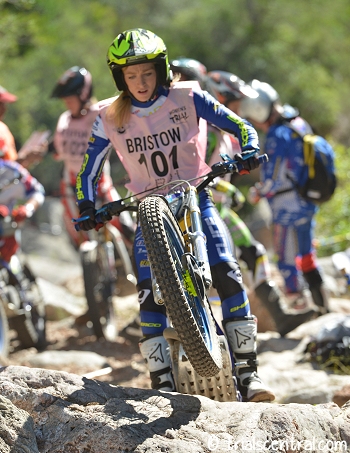 Emma Bristow – Sherco closed out an almost perfect campaign as she took the final victory of the 2015 FIM Women's Trial World Championship at L'Hospitalet de l'Infant, Spain earlier today to confirm herself a more than worthy winner of the series for the second year in a row. Having already clinched the title last Sunday, Bristow looked both relaxed and confident as she rode to her third triumph of the year, having only been beaten once on the opening day of the series in the Czech Republic.
Bristow was joined on the podium today by her two compatriots as Donna Fox – Sherco and Rebekah Cook – Jgas finished second and third respectively in what was an all British top three. The runners up spot for Fox marked her best ever result in the championship and followed on from her third position in Teo last Sunday to give her third overall in the final standings. In turn Cook's rostrum placing today was sufficient for her to secure second spot in the overall rankings for the second year in succession.
By the end of the first lap of fifteen sections, which were ridden twice today, Bristow had already ridden herself clear of the chasing pack. Losing single marks in hazards eight and thirteen, Emma posted an opening score of just two marks. Spain's Mireia Conde – Beta, who would eventually end the day in fourth position was the newly crowned champion's closest threat at this stage as she parted with five marks on her first tour. Cook and Fox remained in contention with lap scores of six and seven respectively.
Clear blue skies and high temperatures added to the occasion with the initial two section being located on the nearby beach. The crowd was swelled by local sun bathers before the girls then headed inland to the nearby hills for the remaining hazards, all of which could be found in a local dry riverbed. The latter group of sections proved the most challenging and caused the majority of the problems, where most of the marks were lost. It was amongst these natural hazards where Bristow made her only real mistake of the day as she fived section seven on her second visit. Despite this slight blot on an otherwise solid day for the 2015 FIM Women's Trial World Champion, Emma still ran out the winner on the day by six clear marks.
Fox produced an inspired closing performance to match her early lap score and to snatch second place on the day from Cook. Cook in contrast doubled her tally on her final lap, compared to her first lap total and as a result of which found herself demoted to the lower tier of the podium this time out. These two British riders both did enough to occupy the reverse positions respectively in the final championship standings as Great Britain confirmed their dominance of the 2015 FIM Women's Trial World Championship.
For the second event in a row Norway's Mette Fidje – Sherco recorded an equal career best result as she placed fifth on twenty five marks to announce herself as a potential front runner in the future. Germany's Theresa Bauml – Ossa took sixth, two marks further back whilst home rider Berta Abellan – Sherco ended the day in seventh. Ingveig Hakonsen – Beta, Elisabet Solera – Ossa and Ina Wide – Gas Gas rounded out the top ten for the last time this season. Wilde's worst result in the campaign saw her lose out on a top three place overall, but her fourth spot in the series was still her best to date. .
With the 2015 FIM Women's Trial World Championship now complete, tomorrow will see nine nations battle it out in the FIM Women's Trial des Nations which will take place over a similar course in and around L'Hospitalet de l'Infant.
Results
1. Emma Bristow - 8

2. Donna Fox - 14

3. Rebekah Cook - 18

4. Mireia Conde - 19

5. Mette Fidje - 25

6. Theresa Bauml - 27

7. Berta Abellan - 27

8. Ingveig Hakonsen - 30

9. Elisabet Solera - 31

10. Ina Wilde - 31

11. Sandrine Juffet - 34

12. Jess Bown - 34

13. Sara Trentini - 34

14. Marilyne Journet - 36

15. Pauline Masanes - 36

16. Maria Giro - 38

17. Kristie McKinnon - 42

18. Erika Melchior - 47

19. Keity Meier - 48

20. Rachel Hassler - 50

21. Meus Murcia - 51

22. Mona Pekarek

23. Chloe Richardson - 53

24. Elisa Peretti - 55

25. Martina Balducchi - 58

26. Madeliene Hoover - 63

27. Julie Sandanger - 65

28. Victoria Payne - 69

29. Caroline Allen - 76

30. Kate Callaghan - 87

31, Laurence Dugnas - 93

32. Millie Ray - 98

33. Sofie Sorensen - 102

34. Kaitlyn Cummins - 104

35. Michelle Hanlon - 110

Alba Lara - Retired

Ina Halls - Retired
pdf Download Full Results (121 KB)
pdf Download Final Standings (96 KB)
Photo Coverage
Trials Central Supporters can access a gallery of 130 images from the final day of the 2015 FIM Ladies Trial World Championship by clicking here. Supporters images are high resolution and do not carry watermarks.
Free Public Gallery