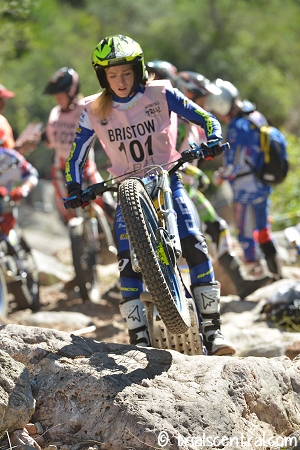 The opening round of the 2016 FIM Women's Trial World Championship takes place in Great Britain this coming weekend at Tong near the city of Bradford, in the Trial heartlands of Yorkshire. Surprisingly this is the first time that the ladies series has visited British soil, but it is the perfect moment to change that fact with the current top three ranked girls originating from this very country.
Flanked by Becky Cook -TRS and Donna Fox – Sherco, ranked second and third respectively the reigning and twice FIM Women's Trial World Champion Emma Bristow – Sherco again starts the season as the hot favourite to retain her title. Speaking ahead of this weekend's hugely important encounter Bristow explained the following in response to the questions posed to her.
How does it feel to finally ride a round of the FIM Women's FIM Trial World Championship in the UK?
"It is quite a nice feeling. I am so looking forward to riding what really feels like a home round as I only live about two hours away. It makes a big difference not having to travel for several days. I hope there is a really big crowd to lift me and all the other British girls."
Have you been to see the venue?
"I went to look about three weeks ago, the tapes were in, but the actual section cards were not set out. I could see it will be a very 'British' Trial though, with climbs and bankings that could be quite slippery. It isn't just big dry rock steps which makes a nice change."
Who do you see as your main rivals this year?
"Obviously Becky (Cook) and Sandra (Gomez) will be up there. It depends on the sections, I hope at least some will be set quite challenging. If they are all easy anyone could have a good ride while one single mistake or piece of bad luck could drop you several places."
How has your training been going?
"Really, really good. I have ramped up my practicing over the last six weeks and I feel I am riding better than ever. I have a brand new bike and just feel really comfortable with my team. It has been frustrating as the men have been riding for months, their series is nearly over and we are just starting."
Has any rider been an inspiration to you?
"Yes, Donna (Fox). I never had any ambition to ride Internationally, I was happy just riding local events, but Donna said, no, no, you really must ride Europe and the World. So I did and it is just amazing now to be an FIM World Champion."