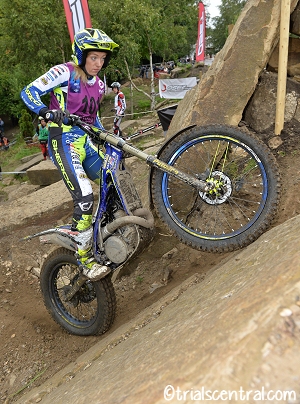 Reigning Champion Emma Bristow – Sherco began the defence of her title with a win on the opening day of the 2016 FIM Women's Trial World Championship that was staged at Tong, Great Britain. With the loss of just a single mark on each of the two laps of twelve sections, Bristow became the victor by six marks over her compatriot and rival Rebekah Cook – TRS as the series visited the British mainland for the first time since it began back in 2000.
Happy to have seal her initial win of 2016 Bristow said, "I have only really made two small mistakes today. The Trial was much easier than I expected and hoped for, but I just got on and did my job. When you are the champion, there is always pressure, but I just tried to enjoy my day and the chance to ride in front of my home fans. Overall I am pleased, and will be even more pleased if I can do the same again tomorrow. Hopefully they will stiffen up a few of the sections for the second day."
As predicted, Spain's Sandra Gomez – Gas Gas was very much back in the mix having been ruled out of the title fight through injury last season. Gomez dropped a total of ten marks over the two laps of rocky and often slippery sections to claim the final spot on the podium. Sandra's last lap tally of three marks, which was only bettered by eventual winner Bristow, shows that she could prove to be a real contender for the top spot when the action resumes tomorrow.
Rain showers throughout Friday and late into Friday night threatened to make conditions out on the compact course very difficult, but with no further rain when morning broke and bright sunshine from just after lunch, the hazards actually dried and rode easier than had perhaps been expected.
Sixteen-year-old Berta Abellan – Beta from Spain recorded her best ever result as she secured fourth place on day one with a total of eighteen marks much thanks to two consistent showings over both laps. Whilst having only joined the series in 2014, Berta is already making fast progress with her previous best finish being sixth position at the opening round of the 2015 season in the Czech Republic.
Sixth in the overall rankings last year, Germany's Theresa Bauml – Beta made a strong start to the new campaign as she rounded out the top five on twenty-one marks. British riders then occupied the next two spots as Katy Sunter – Gas Gas and Donna Fox – Sherco ended the day in sixth and seventh places respectively. Spain's Mireia Conde – Beta, Norway's Ingveig Hakonsen – Beta and Sara Trentini – Beta completed the top ten in that order on day one.
Subject to any changes in the weather, selected sections will be modified ahead of the second and final day of competition at Tong tomorrow.
Results
1. Emma Bristow - 2
2. Becky Cook - 8
3. Sandra Gomez - 10
4. Berta Abellan - 18
5. Theresa Bauml - 21
6. Katy Sunter - 22
7. Donna Fox - 23
8. Mireia Conde - 29
9. Ingveig Hakonsen - 30
10. Sara Trentini - 32
11. Jess Bown - 33
12. Michelle Neukirchen - 34
13. Mona Pekarek - 35
14. Kristie McKinnon - 41
15. Chloe Richardson - 42
16. Erika Melchior - 45
17. Maria Giro - 45
18. Louise Alford - 46
19. Alicia Robinson - 52
20. Carla Caballe - 55
21. Madeleine Hoover - 60
22. Victoria Payne - 63
23. Sophia Ter Jung - 63
24. Alex Bracanti - 63
25. Gabrielle Whitham - 66
26. Alba Lara - 67
27. Catherine Alford - 79
28. Daniela Bauml - 79
29. Kate Callaghan - 81
30. Nadine Faude - 83
31. Gabrielle Gundry - 92
32. Sofie Kraft - 94
33. Jennifer Stephen - 95
34. Michelle Hanlon - 101
pdf Download Full Results (108 KB)
Photo Coverage
As this was a combined event with the Men's Championship, access to our photo coverage can be accessed in the men's news article by clicking here