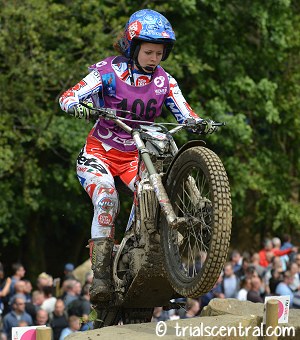 The second round of the three round 2016 FIM Women's Trial World Championship takes place this weekend in conjunction with the final round of the Men's series, at San Pietro Mussolino in north east Italy.
Following the opening two days of competition in Yorkshire at the British round reigning Women's World Champion Emma Bristow leads the way having taken two superb wins, but with an impressive total of forty-one women entered in Italy there is sure to be plenty of opposition.
And looking to score big points is eighteen-year-old reigning German and European Champion Theresa Bauml. Theresa from Koblenz, Germany, who will not turn nineteen until the end of October this year, is contesting the 2016 series on a 300 Beta after stepping up from a 125 Ossa which she campaigned last year.
In Germany Theresa took the National title after finishing runner-up to Ina Wilde three years in a row. She had also finished runner-up in the European series for three years before stepping-up and taking the title in 2015. This success was achieved with a second place in the opening round in Italy followed by two victories in Poland in the three round Euro series.
Theresa was also a member of the German team that finished runner-up to the all-conquering British squad in the FIM Women's Trial des Nations and ended the year sixth in the FIM Women's Trial World Championship, so all in all it was quite a year for the teenager.
Despite her tender age Theresa is now a veteran of twenty-two Women's Trial GP events having made her debut in the Czech Republic in 2010, finishing nineteenth, but scoring her first FIM Women's Trial World Championship point a year later in the same country. Since then Theresa has amassed an impressive one hundred and sixty-three points in total. Currently ranked sixth in the World Theresa finished fifth and seventh in Great Britain and must be confident of building on this in Italy.
Said Theresa, "To be honest I was a little disappointed with my positions at the first round in Great Britain. Fifth and seventh was not fantastic, but then again on each of the two days I was very close on marks to fourth, and with two fourth places I would have been happy."
"I have been training hard over the summer and winning the European title has given me extra confidence that I hope I can now bring to the World Championship. The next round in Italy is very important for me, because with no event in Germany this is like my home round now that I ride for an Italian team. My goal is to be on the podium, but I know I will have to ride at my best as there are many girls fighting for the top three positions."