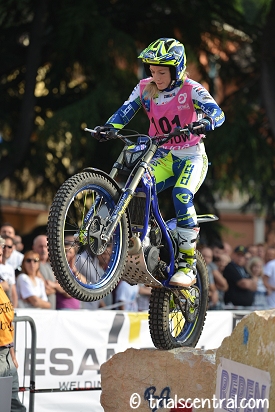 Reigning title holder Britain's Emma Bristow –Sherco extended her lead in the 2016 FIM Women's Trial World championship by taking her third straight win, following up on a double win in her home round in Yorkshire back in July, with victory on the opening day in Chiampo, Italy today. Sandra Gomez – Gas Gas and Theresa Bauml –Beta completed today's podium respectively.
With the weather in Italy scorching sunshine, and with the temperature as high as thirty two degrees, the Women's event was run in conjunction with the final round of the FIM Trial World Championship, but the girls tackled two laps of fifteen sections against the men's standard three laps of twelve hazards.
The event comprised a single opening section in the town, where the paddock and headquarters were housed, with the main group of fourteen hazards set some eight kilometres away, the Women's extra three hazards were interspersed en route.
Bristow actually trailed Spain's Gomez, the twenty-three year-old from Madrid returning to the Women's series proper after missing the back part of last season through injury, on the opening lap after conceding a five mark maximum penalty in the eleventh section. This hazard was cleaned by eventual second placed Gomez and German teenager Theresa Bauml -Beta who claimed the final place on the rostrum, the second of her career.
After the unexpected maximum, Emma dropped just one more mark for the lap, in the very last section, to finish the opening circuit on six marks against just five for Gomez. But the FIM Women's Trial World Champion came back strong to drop just a single mark on her bogey section, eleven, second time round with Gomez dropping a late five marks in section thirteen and having to give top position to Bristow.
Bauml posted two consistent laps of thirteen marks to just hold off German team mate Sarah Bauer – Sherco on a tie-break, twenty cleans to seventeen.
Britain's Becky Cook - TRS, the current vice champion, was disappointed to be excluded from third place on a technical infringement when her machine was found to breach the minimum weight limit following a random inspection part way through the competition.
Current World number three, Britain's vastly experienced Donna Fox – Sherco, in her final FIM Women's Trial World Championship campaign, just held off Spain's Mireia Conde – Beta for fifth, nineteen cleans against eighteen after both dropped twenty-eight marks.
Just a single point behind was top Italian finisher Sara Trentini – Beta in seventh, ten marks clear of yet another tie between Spanish teenagers Mario Giro - Montesa and Alberta Abellan – Beta, the latter not able to match the form that earned her a podium place in England.
Results
1. Emma Bristow - 7
2. Sandra Gomez - 14
3. Theresa Bauml - 26 (20 cleans)
4. Sarah Bauer - 26 (17 cleans)
5. Donna Fox - 28 (19 cleans)
6. Mireia Conde - 28 (18 cleans)
7. Sara Trentini - 29
8. Maria Giro - 39 (16 cleans)
9. Berta Abellan - 39 (13 cleans)
10. Mette Fidje - 40
11. Katy Sunter - 47
12. Ingveig Hakonsen - 48
13. Michelle Neukirchen - 54
14. Jess Bown - 56
15. Huldeborg Barkved - 59
pdf Download Full Results (123 KB)
Photo Coverage
As this was a combined event with the Men's Championships, our photo coverage can be found in the men's news article by clicking here