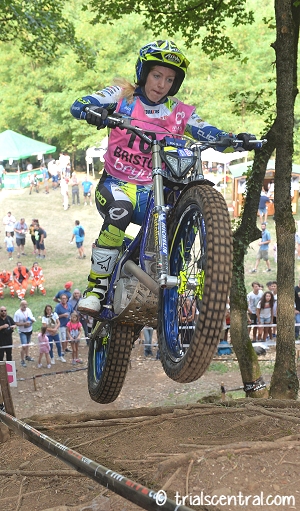 Britain's Emma Bristow –Sherco secured her third straight FIM Women's Trial World Championship as she dominated proceedings on the second and final day of the Italian Grand Prix held in Chiampo. With four wins from four starts, this season and with the best four positions determining the title from the five counting days in total, Bristow cannot now be overtaken ahead of the final round of the series in France next Friday. Determined to complete her hat trick of crowns, Emma once again destroyed her opponents during another day of hot competition in the Italian hills.
Today marked Bristow's thirty-ninth GP event, with the British rider only failing to score points on one occasion since she first joined the series back in 2006. Twenty-five-year-old Emma's recent dominance of the Women's FIM Trial World Championship, after having finished as runner up to Laia Sanz three times, is confirmed by her tally of twenty-four podium places and twelve GP wins. As was the case today, her rivals have work to do if they are to prevent Bristow taking the title again next year.
Behind the newly crowned champion, the battle for the other podium places was as fierce as ever with Bristow's veteran compatriot Donna Fox – Sherco coming out the best after a day-long scrap that saw second to seventh positions split by just ten marks. Securing only her second ever runners up spot, thirty-one-year-old Fox produced one of the best rides of her long career to eventually finish sixteen marks behind Emma, but eight marks clear of the next four riders who ended the day locked on the same marks.
Spain's Mireia Conde – Beta can count herself fortunate to have managed to grab only her second ever podium finish when she took third spot thanks to having the most clears of the four riders tied on twenty-eight marks apiece. Her twenty clean rides saw her demote her younger compatriot Berta Abellan – Beta down to fourth by the narrowest of margins, with just one clean separating these two riders. Despite missing out on a rostrum spot this was a marked improvement for Abellan who finished ninth yesterday. Berta now sits third in the general standings.
Shaken by her disqualification just twenty-four hours earlier Rebekah Cook – TRS could only manage fifth place today and as the result of a terrible weekend for the British rider she has now slipped from second to fourth in the points standings with just one counting day to go. It was also a disappointing showing for Sandra Gomez - Gas Gas who ended the second day of competition down in sixth position, however she can take some consolation that she now holds second spot in the championship table.
Third on Saturday, Germany's Theresa Bauml –Beta was slightly off the pace in seventh today. Italy's poster girl Sara Trentini – Beta, Mette Fidje – Sherco from Norway and her compatriot Huldeborg Barkved – Sherco completed today's top ten respectively.
With Bristow already crowned, the remaining podium rankings will be decided next Friday at the final counting day of 2016 FIM Women's Trial World Championship in Isola 2000, France.
1. Emma Bristow – 4
2. Donna Fox – 20
3. Mireia Conde – 28 (20 cleans)
4. Berta Abellan – 28 (19 cleans)
5. Rebekah Cook – 28 (17 cleans, 7x1)
6. Sandra Gomez – 28 (17 cleans, 5x1)
7. Theresa Bauml – 30
8. Maria Giro – 32
9. Sara Trentini – 40
10. Mette Fidje – 41
11. Huldeborg Barkved – 42
12. Sarah Bauer – 48
13. Chloe Richardson – 49
14. Jess Bown – 51
15. Louise Alford - 52
pdf Download Full Results (123 KB)
Download Championship Standings