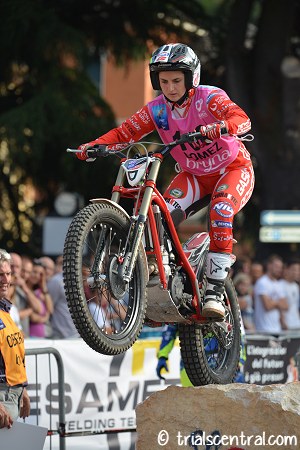 This Friday sees the third and final round of the 2016 FIM Women's Trial World Championship in the winter ski resort of Isola 2000 in the southern French Alps and looking to finish the season strongly is Spanish all-round competitor Sandra Gomez – Gas Gas.
Sandra, just twenty-three-years-old, has enjoyed nine consecutive years of FIM Women's Trial World Championship competition from 2008, when she finished thirteenth overall to 2016, with a best result of third in the series on two occasions coming in 2012 and 2014.
The girl from Madrid, not Catalunya like the majority of Spanish riders, concentrated on extreme enduro in 2015 and to extremely maximum effect, winning the AMA (United States of America) Endurocross Women's title and earlier this year backed that up by winning the FIM Women's SuperEnduro World Cup, with Trial events fitted in between her race schedule.
Britain's Emma Bristow has already secured the 2016 FIM Women's Trial World Championship having taken four wins from the four starts, although Sandra holds second place going into the final round in France this Friday. But with one score to drop from the five days of competition a good result is imperative as Sandra sits just seven points ahead of fellow Spaniard Berta Abellan – Beta and ten ahead of Britain's Rebekah Cook – TRS with Cook effectively already having her drop score after having been excluded from the first day in Italy last weekend due to a technical infringement.
Aware of the importance of this final event in the 2016 series and the chance to become vice World Champion for the first time Gomez said. "Last weekend in Italy, it was good and bad. Good on Saturday as took second place although I still wanted to win. Then on Sunday I put too much pressure on my head and it was disaster. I never had a good feeling on the bike as my body was tired and my concentration was poor."
"This year has been complicated for me. I only joined Gas Gas in May for the Scottish Six Days Trial, and although I am super happy with the bike and the team I really needed more time riding to be at my best. Anyway I can't be champion this year in Trial but I think next season I can really challenge for the title as now I have the best bike and the best people around me."
"My goal now is to become vice World Champion after the Trial this Friday in France, that would still be an amazing achievement when you consider everything that happened this year. It will be a tough fight with the other girls, but I hope I can come out on top and collect the silver medal."