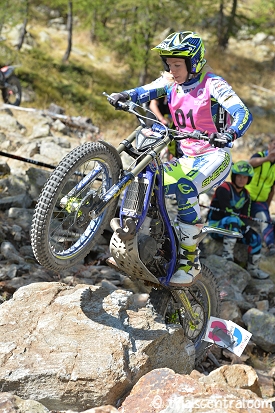 The battle for supremacy in the TrialGP Women class gets under way at the forthcoming and next round of the FIM Trial World Championship at Kingman in the USA on 28-30 July and Britain's Emma Bristow - Sherco is the rider everyone is hoping to beat.

The twenty-six-year-old will be gunning for her fourth consecutive World crown and the bad news for anyone aiming to cause an early upset at TrialGP USA in the arid state of Arizona is that she feels on top form.

"The first round is starting quite late so I've been training hard and feel confident and ready," says Emma. "I'm riding well and feel on form. It's going to be hot in America so I've been working on conditioning my whole body to make sure I'm fully prepared for the heat. I've got a good training routine going and I'm excited for it all to start. I'm as ready as I can be."

While many of her male counterparts choose to prepare in Southern Europe, Emma has stayed a lot closer to home to get ready for the three-round championship.

"I've mainly been training in England. I did a little bit in Spain at the start of the year, but I feel as though I can get a good routine going at home rather than having to go abroad and that benefits me because I'm happier and I know from previous years that it works for me."

Unbeaten in the World Championship competition since May 2015 and with a hat-trick of TrialGP Women titles already to her name, it's only natural that Emma should feel super-confident.

"I wouldn't say there's a lot of pressure because deep down I know I'm the best I can be leading into the championship. If I'm on-form and riding to the best of my ability then I know someone else will have to be riding really, really-well to challenge me. I don't mean to sound big-headed, but you've got to be confident.

"To be honest I try not to think about anyone else because in this sport it's you against the sections and that's the way I've always been."

Emma welcomes the changes introduced this year by series promoter Sport7 that have created a two-tier format for women and also taking them outside Europe for the first time in the championship's history.

"I think for the girls to go to America is really good because it gives us the same exposure as the men and also takes us outside Europe which has never happened before."

"There are two routes as well which is great. Previously they've designed the sections to cater for everyone but now there are two groups I'm hoping there will be a few more challenging sections and it should be more exciting to watch as well."

"This is my fifth-year riding for Sherco and feel that it's where I should be. I've gelled with the bike and I'm very happy with the team. If you feel comfortable with the bike and you're in a good place mentally then it's a great feeling."