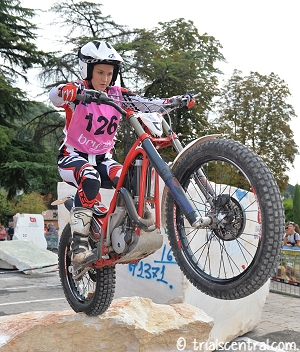 Feet-up females swing into action as the 2017 FIM Women's Trial World Championship travels across the Atlantic Ocean to the USA for the opening round on 28-30 July.

Alongside the established TrialGP Women class, Kingman in Arizona will also play host to the first-ever competition for Trial2 Women and American fans will have a home heroine to cheer on.

Maddie Hoover - Gas Gas from North Carolina has been competing for a decade and won USA Women's National Championship titles in 2013, 2014 and 2015. She has also represented her country in the FIM Women's Trial des Nations on two occasions and this year became the USA's first Women's Pro National Trial Champion - not a bad resume for a rider who is just eighteen years old.

"Trial is the only motorsport I've ever done because it's what my dad has been into since before I was born," says Maddie. "I think it was a good fit for me and balanced my other sports and passions well. I was a gymnast growing up which came in handy right away with the skills necessary for Trial."

Maddie contested the full 2016 TrialGP Women series, but placed just outside the points on each occasion and views the all-new Trial2 Women class as an ideal opportunity for her to progress in the sport.

"I'm excited for the new Trial2 Women class because I think it will make for some good competition among the girls that aren't quite on the top Women's level. Sometimes when you know you aren't going to place well it's hard to get any motivation and I'm super-hopeful this year goes well and I can move up to the top class next year if I'm ready!"

In September the three-round Trial2 Women series heads to the Czech Republic and then Italy and Maddie, who graduated from High School in June, is hoping to compete for the title before her European adventure signs off at the Women's Trial des Nations at Baiona in Spain on 22-24 September.

"I'm very excited to be taking some time to travel and pursue Trial. I have so many opportunities this summer and fall to ride with some of the best in the World. I can't turn that experience down!"

Maddie flies to Europe in early August and, as a guest of the Norwegian team, will compete at the final round of the FIM European Trial Championship in Italy.

With Trial participation growing in the USA, Maddie's set to become a role model for the next generation of American female riders, although she draws her own inspiration from a Spanish superstar of off-road sport.

"Laia Sanz is my all-time favourite rider," adds Maddie. "I remember watching her as a little girl at a World round we had in America. She radiates confidence and makes me aspire to push myself harder. The incredible career she's built is really an inspiration and I hope I can accomplish at least some of what she has!"