With just two rounds remaining Toni Bou – Repsol Montesa has opened up a twenty-one point lead at the head of the 2014 FIM X-Trial World Championship afterhe took his third win of the series in front a huge crowd who had packed the Palau Sant Jordi arena in Barcelona, Spain. Adam Raga – Gas Gas was the best of the rest and finished some eight marks behind his dominant compatriot, as Albert Cabestany – Sherco completed yet another all Spanish podium. British rider James Dabill – Beta took fourth place as he lost out to Cabestany on a tie-break for the last spot on the rostrum.
Jeroni Fajardo – Beta and Takahisa Fujinami – Repsol Montesa occupied fifth and sixth places respectively as they both failed to progress past the semi-final stage. With Bou way out in front in the general standings, Cabestany remains in second spot in the series, but now only has a three point advantage over Raga. Fajardo, Dabill and Fujinami currently round out the top six in that order, with just five points separating this trio as the championship now heads to its closing pair of events in Milan and Madrid.
Qualification took place behind closed doors earlier in the day, with the eight permanent riders directly paired up against each other in the absence of any wild card entrants on this occasion. Series rookie Jorge Casales – Gas Gas had the difficult task of being the first man out on the six opening sections and in reality never looked like troubling Fajarado who's passage to the semi-final was by a clear ten marks. It was a similar story as Loris Gubian – Ossa found himself both up against some tough hazards and the Gas Gas teamster. Raga booked his place in the last six as he defeated the French rider by an eleven mark margin.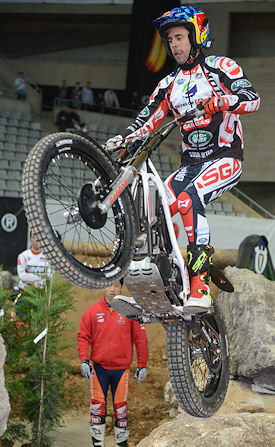 The battle between Dabill and Cabestany was a far closer affair, with just a single mark separating the English – Spanish duo after a tense and enthralling encounter. Cabestany was the eventual victor, but Dabill was also a winner as he became one of the two best losers to qualify. As expected Bou was simply awesome on his home patch and romped to an easy win over his Japanese team mate. Fujinami was fortunate to grab the last qualifying spot as he just edged out Gubian on a time tie break as he tied with the French rider after a disappointing initial showing.
Raga won his head to head race with Dabill to ride second in their semi-final pairing. He was to use this to his advantage as he edged out the Beta rider on a score of ten compared to thirteen dropped by his rival. Dabill's total would prove sufficient for him to transfer to the final by virtue of being the best loser. Fajardo lost his battle against Cabestany and would take no further part in the competition as he lost one more mark than Dabill. It was a non-contest between Bou and Fujinami, with the reigning champion booking his place in the final by dropping only one mark.
Bou continued the same kind of form into the final and simply destroyed his rivals once again, and in doing so not only extended his gap at the top of the championship table, but also broke Jordi Tarres' record of wins at the Barcelona event. Raga did enough for second spot, whilst Cabestany hung onto third position thanks to a tie-break in his favour over Dabill.
The 2014 FIM X-Trial World Championship will now take a short break before resuming in Milan, Italy on Saturday 15th March for the penultimate round of the current campaign.
Photo Coverage
These are our own photos and will not be seen anywhere else
Free Public Photos (15)
Trials Central Supporters Photo Coverage (149) - Higher resolution and not watermarked