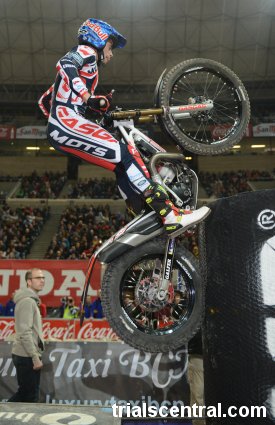 The third round of the X-Trial World Championship, which was held this weekend at the Palau Sant Jordi in Barcelona ended with second position in the final for Adam Raga. The Gas Gas rider has managed to ride at a high level in front of 11,000 spectators, and only a mistake in the finals has separated him from a similar score to the eventual winner of the race.
Raga got a good results in the morning test, easily beating Loris Gubian, and in the semifinal beat James Dabill. In the final, with the top four riders of the day, he was placed as second best rider of the night from the first zone, and only a small error in the second zone has prevented him from battling for victory to the last section with Toni Bou.
With this result, Raga has cut into the points differences over the rider in second place, and is behind by only three points in the fight for second position in the championship standings.
Other Gas Gas riders have competed in this X-Trial World Round, and the young Jorge Casales. The reigning Trial Junior World Champion, and one of the values of the Gas Gas School of Champions program, could not make the cut in qualifying.
The next round of the X-Trial World Championship will be held in Milan on Saturday March 15th.

Adam Raga:
 "I'm happy with how the race went because I've been about to complete the Saunier Duval zone to be closer to Toni Bou. I think I've done well in qualifying, the semi-finals and the final. I'm content with the second position, it is good for the championship and I hope to win a race before the end of this X-Trial World Championship.
 Physically and technically I feel good, and the bike is also fantastic, it has been perfect. I have to thank my mechanics, they and Gas Gas are working very well, giving me a very competitive bike. We hope to continue in this line to be closer to Toni in the remaining races. "