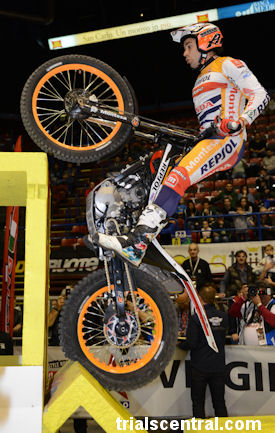 With yet another emphatic performance, Toni Bou – Repsol Montesa clinched the 2014 FIM X-Trial World Championship in front of a packed house in Milan, Italy and with one round to spare. Bou was simply unstoppable on the night as he notched up a record extending eighth title in this discipline. Toni's margin of victory was a statement of his sheer superiority as he dropped a single time penalty in the final, which was some twelve marks better than runner up Albert Cabestany – Sherco. Cabestany now heads to the closing round in Spain in two weeks time with a six-point cushion in the general standings over Adam Raga – Gas Gas who completed tonight's podium.
James Dabill – Beta recorded his third fourth place on the trot and once again just fell short of preventing an all Spanish rostrum. His Beta team-mate Jeroni Fajardo failed to make it through to the final and ended the evening in fifth spot. Wild card rider Matteo Grattarola – Gas Gas delivered a spirited performance in front of his home fans to claim a well deserved sixth position ahead of an off form Takahisa Fujinami – Repsol Montesa who finished in seventh spot.
With eight permanent riders plus two wild card entrants, the maths was easy, there would be five winners and one best loser who would make it through the qualification process. Matteo Poli's – Ossa chances of progressing through were always going to be slim as he came up against Cabestany in his initial pairing. Poli's single clean on the tyre section was his only non-maximum ride as he had no answer to Albert. It was much the same story for Jorge Casales – Gas Gas when he faced Bou, truthfully the Gas Gas rider was never in the hunt and bowed out quietly on a score of nineteen marks whilst Toni remained clean.
Dabill managed to edge out Loris Gubian – Ossa after a shaky start and was helped along the way as the French challenger twice suffered mechanical problems. To the delight of the home fans Grattarola made it through to the semi-final as the best loser despite being defeated by Fajardo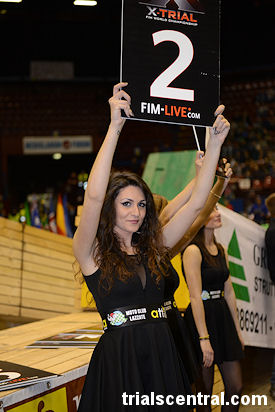 in their head to head battle. Well beaten by Raga in their particular pairing, Fujinami was to endure an early exit as he was finally ruled out of taking any further part in proceedings when Grattarola beat him on a tie beak to claim the last place in the six man semi-final. Casales, Gubian and Poli were to finish the night in eighth, ninth and tenth positions respectively.
Cabestany got the better of Fajardo in their semi-final pairing, as did Raga over Grattarola, leaving Bou to claim the last automatic place in the four rider final. Although well beaten by Bou in their personal duel Dabill transferred to the main event as the best loser having dropped just one mark more than Cabestany.
Despite taking his place in the final, Dabill was immediately on the back foot as he lost out to Albert in their head to head race. Cabestany then went on to beat Raga before Bou brought his brief winning run to an end. From the first section of the final when Bou went clean and his three rivals all failed, his triumphant run to the title was never in doubt. Further cleans on the orange blocks and blue tubes saw Toni further extend his lead as Raga, Cabestany and Dabill all collected more fives. Only one time penalty on the huge tyres was to blot Bou's otherwise faultless performance as he became the only rider for the second time on the night to crest the rubber mountain.
The 2014 FIM X-Trial World Championship will come to a conclusion in two weeks time in the Spanish city of Oviedo, when Cabestany and Raga will fight out to be vice champion, whilst Bou looks to complete yet another faultless campaign.
Photo Coverage
Free Public Photos (10)