The World X-Trial Championship held its fourth event in Milan (Italy), where Adam Raga, who qualified well and also achieved a place in the semi-final, finished in third place because of a puncture in one of the sections.
The Gas Gas factory team rider had a good qualifying and semi-final round, showing his usual level of riding, finishing second to get to the final round, when the entrance to a section punctured the rear tyre of his Gas Gas TXT Pro 300 Factory Replica. One of the sharp edges of the obstacle caused the puncture and he could not continue to the end of the section, which resulted in a five point penalty. In the absence of sections where he could recover these points lost, finally, he finished in third position.
Jorge Casales disputed this fourth qualifying round of the World X-Trial and just missed entry into the semi-finals. The Galician rider from the Gas Gas School of Champions program is progressing in each race and in this demanding championship, appears to have a great future. In this round, even without a progression to the semi-finals, he obtained results similar to the more experienced riders.
One of the guest riders to this round was local talent Matteo Grattarola, who with his Gas Gas TXT Pro Racing qualified for the semi-final, and finished in sixth position.
Adam Raga: "I'm happy with how I rode up to the end, everything has gone well, I have done very good in qualifying and had a good semifinal. But in the end, while on zero, I've suffered a puncture in a zone and I ended up with 5 points more than my opponent, finishing third in the race.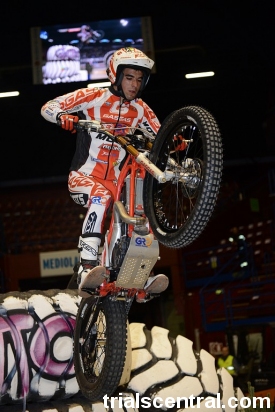 This third took away some possibilities for the sub-championship, but there are always future possibilities, and we will not stop fighting until the end."
RESULTS


Final
1. Toni Bou, 1 point
2. Albert Cabestany, 13 points
3. Adam Raga (Gas Gas), 16 points
4. James Dabill, 20 points

Semifinal
5. Jeroni Fajardo, 15 points
6. Matteo Grattarola (Gas Gas), 16 points

Classifications
7. Takahisa Fujinami, 18 points
8. Jorge Casales (Gas Gas), 19 points
9. Loris Gubian, 19 points
10. Matteo Poli, 30 points

Provisional Standings World Championship
1. Toni Bou, 80 points
2. Albert Cabestany, 54 points
3. Adam Raga (Gas Gas), 48 points
4. James Dabill, 32 points
5. Jeroni Fajardo, 30 points
7. Jorge Casales (Gas Gas), 13 points