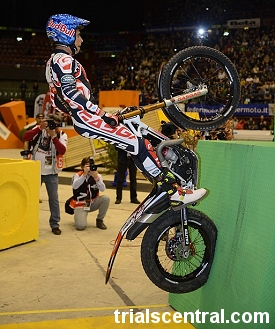 Adam Raga – Gas Gas is very much aware that he has got an uphill task on his hands this coming Friday as he bids to retain his current vice champion status at the last round of the 2014 FIM X-Trial World Championship in Oviedo, Spain. The soon to be thirty-two year old who followed eventual champion Toni Bou – Repsol Montesa last season currently trails his bitter and arch rival Albert Cabestany – Sherco by six points as they head to the closing encounter of the 2014 series. Frustratingly for Raga, he saw this gap double from three to six points as he was demoted to the lower step of the podium at the last round in Milan, as Bou and Cabestany filled the top two placings respectively.
Ever since the opening round of the 2014 FIM X-Trial World Championship in Sheffield, Great Britain early in January the Gas Gas factory rider has been playing catch up. His fifth place at the initial event saw Adam fail to make it through to the all-important four man final and as a result of which he immediately lost nine valuable points to Cabestany who finished as runner-up on the night. Since this relative disaster Raga has been clawing his way back into contention with second places in Marseille and Barcelona before his third spot during his last outing in Milan.

Speaking ahead of the Spanish showdown event in Oviedo, Adam said. "My riding in Milan was good, but I can not be satisfied with the result. During qualification and the semi-final each time I was the rider who was closest to Bou, but in the final this was not the case."
"With the new rules you only have four sections in the final, so there is no chance to recover any mistakes that you might make. I made three fives in the first three sections so already the result was almost decided with only one section to ride. Cabestany and Bou made it through the second section and that was the difference." added Raga.

The 2013 FIM X-Trial Vice World Champion continued. "Each year it seems that we arrive at the last round in the same or a similar situation, with me and Cabestany fighting for second place in the championship. This time it is no different, yes he has an advantage in points, but as we have seen before anything can happen."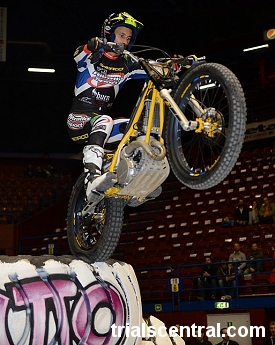 "I know that it will be difficult to be second this year, although I will go to the last round in Oviedo and I will continue to fight for this for both me and my team. Sometimes when you have big pressure you can make a big mistake, so I hope I can do a good Trial and for the rest we will have to wait and see." ended Adam.

Raga won the FIM Indoor Trial World Championship, as it was then known, on four consecutive occasions from 2003 to 2006 inclusive before Bou started his current and extended reign. Since 2007 when Toni began his winning run Adam has finished as runner-up no less than four times and has not ended up outside the top three in the general standings since way back in 2002. Although Raga's consistency over this prolonged period cannot be in doubt, it has been his inconsistency from round to round in more recent seasons that has prevented him seriously challenging Bou for the title.

The stage is set for another thrilling last round fight between Raga and Cabestany in Oviedo this coming Friday as this experienced Spanish duo look to scrap it out once again for the vice champion position in the final standings.