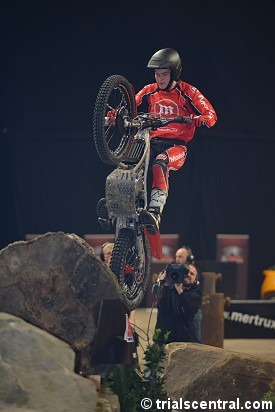 Twenty year old Eddie Karlsson – Montesa is very much the rookie of 2015 FIM X-Trial World Championship, although despite his inexperience on the indoor stage the young Swedish rider is ready and looking forward to the second round of the series this coming Saturday in Marseille, France.

Karlsson, who was the 2013 UEM European Trial Champion, was drafted into the series late on as a replacement for Japanese veteran Takahisa Fujinami – Repsol Montesa who has been forced to sit out of the current campaign as he continues to recover from a long term knee injury. Whilst very much his junior Karlsson could be said to share a similar riding style to the flamboyant Fujinami, and certainly made his mark on the championship with a full blooded debut at the opening round in Sheffield, Great Britain.

Reflecting on his first round result and focusing on this weekend's competition the ever-smiling Karlsson said. "I was so happy when I received the news that I would replace Fujinami. Obviously it is never good to benefit from the injury of another rider, and I am sure Fuji will come back strong, but for me it was an important moment."

"To have the chance to do a full season indoors alongside the best riders is an amazing opportunity for me as a young rider, as normally you have to wait until later in your career to be inside this series."

"Also it is important to say it is impossible for me to replace Fuji, as he is a big rider with much experience and I am just the new boy trying to do my best."

"I trained very hard on big steps before Sheffield, as I knew it was going to be a tough event. I really enjoyed the sections and was quite happy with my riding, just not with the result. Looking back I think I put too much pressure on myself and just tried too hard. It was great to ride in front of so many people and to be inside such a big arena."

"I learned a lot at Sheffield and have been back in Sweden training indoors to be ready for Marseille. I am training a lot on the back wheel, as this technique is so important on the indoor sections. I already saw some pictures and watched some video from the previous events in Marseille as part of my preparation."

"From what I can see the sections are very technical, certainly more technical than Sheffield which should suit me better I hope. Again I know it is going to be another tough night, but already I am looking forward to it."

"This week I will be in Spain so that I can train with Bou, Cabestany and the other riders, which will be good for me and should help me prepare well for Marseille, at least we should be able to ride outside and the weather should be much warmer than it is in Sweden at the moment."

Eddie ended by saying. "As with Sheffield and all the events of the 2015 FIM X-Trial World Championship my goal is to make it through to the final this weekend. To be inside the top four in qualification will be very difficult, but it is something I want to aim for."

Karlsson will proudly take his place alongside the other six fixed riders and one wildcard entrant inside the Palais des Sports in Marseille this Saturday evening for round two of the 2015 FIM X-Trial World Championship.