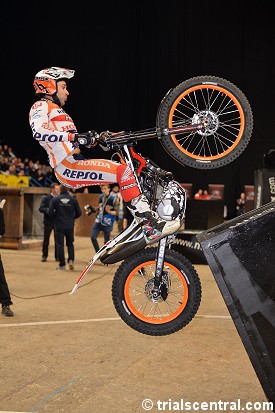 Will Toni Bou continue to dominate...Another dominant and outstanding performance by defending champion Toni Bou – Repsol Honda at the opening round of the 2015 FIM X-Trial World Championship earlier this month sees the Spanish rider head to this weekend's encounter in Marseille, France as the clear favourite to continue his winning ways. Whilst his rivals will have no doubt trained harder than ever this winter to take the fight to Bou, Toni's level of supremacy at the first event in Sheffield was clear to see and will be very difficult to overcome as the campaign develops.

Thirty-four-year-old Albert Cabestany – Sherco was the worthy runner-up to Bou during the first battle of the new season and did his utmost to keep the Repsol teamster within his sights throughout the six sections in qualification. Cabestany transferred to the final as Toni's challenger and finished the night in the same position, but had to concede significant ground to his younger compatriot come the close of play as Bou took the opening victory by nine clear marks. Albert will hope to push the reigning champion harder in Marseille, a venue that saw Cabestany's last win and Bou's last defeat in the series way back in 2010.

Although not one of Adam Raga's – Gas Gas favourite stops on the tour, the former double FIM Indoor Trial World Champion still managed to make it on to the podium in Sheffield, as he finished just a single point behind Cabestany in the final to claim hopefully a morale boosting third spot to open his 2015 account with. Twelve months ago in Marseille Raga posed a real threat to Bou and took the fight right until the last section, although finally had to settle for the runners-up berth just two marks shy of Toni. Adam will be looking for a similar showing this Saturday and to go one better as he attempts to halt Bou's incredible on going unbeaten run.

Jeroni Fajardo – Beta completed the top four at round one and ensured an all Spanish lock out at the top end of the standings. As has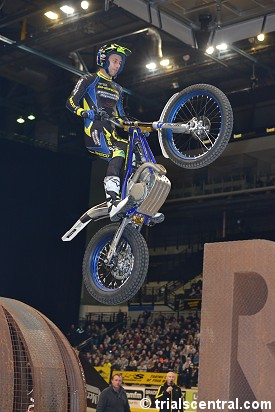 ...or can Cabestany stop the runaway train? been the case so many times in the past, Jeroni had moments of absolute brilliance which were then spoilt by mistakes and ultimately prevented him taking his place on the rostrum which was well within his reach as he finished one mark off third position in Sheffield. Having failed to make it through to the final in Marseille in 2014, Jeroni will first need to overcome that hurdle before he sets his sights on a top three placing this time around.

France's Alexandre Ferrer – Sherco produced a solid opening ride in the 2015 FIM X-Trial World Championship to take a well earned fifth spot in Sheffield, although well off qualifying pace. The twenty-four-year-old former French national champion will be counting on plenty of support as he seeks to take his place in the four rider final on home turf. Britain's James Dabill – Vertigo netted sixth position during his debut on the all-new Spanish machine and is sure to have benefitted from an extra few weeks on his new mount ahead of round two. Last year Dabill finished just one mark away from a podium placing in Marseille, which might just be too much to expect of the British rider at this early stage of what is a new project from the ground up.

Eddie Karlsson – Montesa from Sweden will complete the line up of seven fixed riders who will compete in all six rounds of the 2015 FIM X-Trial World Championship, which will come to a close in late March. Karlsson will line up alongside French wild card entrant Loris Gubian – Gas Gas as the first pairing in qualification on Saturday night, at the start of what is sure to be another atmospheric occasion inside the dark and compact arena on the outskirts of the famous port dominated French city.