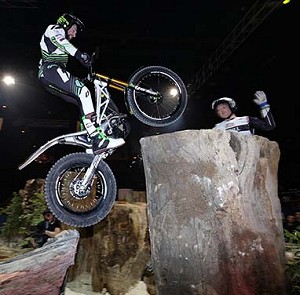 Round two of the 2015 FIM X-Trial World Championship hosted in the French city of Marseille proved to be a tough second outing for Vertigo factory rider James Dabill. Just four weeks have passed since the all new Vertigo Combat made its competitive debut in Dabill's native land of Great Britain, with the twenty-eight-year-old having spent most of the days following the event in Sheffield testing and training in Spain.

Despite the competition in the south of France being well known for its difficult and technical sections, Dabill arrived in Marseille confident of improving on his initial outing and looking to reap some early reward for his many hours of practice during the last month. James lined up against home rider Alexandre Ferrer as part of the second pairing of the evening and matched his French rival with just a single time penalty in the opening section.

However this initial confident showing was soon to be one of the few highlights on what then proved to be a difficult night both for James and the team. A broken rear suspension linkage bolt in the second hazard added an unwanted five to Dabill's tally and forced him to return to the paddock to mount his second machine.

With his concentration clearly broken and his confidence slightly deflated James recovered momentarily to reach the ends cards of the third section for the loss of two marks plus one time penalty. Unfortunately the recovery was only short lived as James then failed to make it up the first undercut step in section four before his second machine then ran out of fuel in the following hazard due to the confusion that had reigned in the earlier change over of bikes. Dabill rounded off his night with a single mark loss in the closing hazard, before waving goodbye to his many French fans.

Watching the event unfold first hand Vertigo Sports Team Manager Dougie Lampkin spoke after the competition. "I don't think I need to say how disappointed we are tonight both for James and the rest of the team. Everyone has worked so hard since Sheffield to be ready for the Combat's only second ever Trial, so we were hoping to see some kind of return on those many hours of input from James and the rest of the crew. The bolt breaking is just one of those things, but is something we will be looking into closely as it has never happened before, also we are at the moment where we are still testing many different parts from many different suppliers. As for the second bike running out of fuel that was a simple human error in the heat of the moment. Everyone was focused on fixing the bolt and this got missed."

"The Combat remains a very new bike and we are a young team, and as it is clear to see from other motorsports like F1 there is no quick route to the top, and I also know this from my own experiences. We will all continue to work in the same direction as we have now been doing for several months and will learn from the events that have happened tonight. The good news is that we will not have to wait long for the next event."

Obviously disappointed James also added his own words post event. "I think it is fair to say that it has not been the best of nights, which is a real shame as I felt good coming into this event. In my own mind we have made good progress since Sheffield and I wanted to show that here in Marseille. When I signed to join Vertigo I was fully aware that there was going to be ups and downs, but I am also confident both in the bike and team, and know that we will put this behind us now ready for the next round in Pau this Friday."

James and the Vertigo Combat will be back in action very soon, as they look to build on the seventh spot secured last time out.