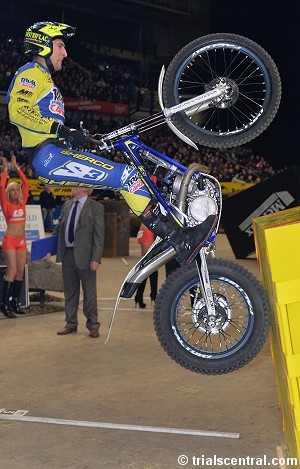 Alexandre Ferrer – Sherco is the only fixed French rider in the 2015 FIM X-Trial World Championship, and just a couple of days after taking fifth place at the previous round in Marseille, the soon to be twenty-five-year-old is now already looking forward to enjoying a second event on home soil in less than a week. The little known town of Pau, which can be found approximately two hundred kilometres southwest of the better recognised French city of Toulouse, will host round three of the series this coming Friday.

Having failed to qualify for last year's campaign, Ferrer who was previously a permanent rider in the series back in 2013, made a strong start to his return by taking fifth spot at the opening round of the 2015 FIM X-Trial World Championship in Sheffield. A result he duly matched at round two. Speaking ahead of this Friday's encounter in Pau, the young French rider who placed eighth outdoors last year, expressed how pleased he is just to have the opportunity to compete on the same stage as the other top riders in the World.

"It is perfect for me to be in the championship and it is even more perfect that we will have two events so fast and both quite close to my home. I really like to ride indoors, or should I say X-Trial and to ride with the best riders. I can say I enjoy a lot, but also it is very difficult as the level of the sections is very high for me, as they are designed to test Toni Bou."

"Both Marseille and Pau are close to my home town of Pertuis, so a lot of my friends and family arrive in both competitions to give me much support. It is good to ride in France and in front of your fans, but also it brings some extra pressure, which I do my best to forget. Each time I ride I try to improve, but it is impossible to make a big or immediate change in your level, as this takes a lot of time. I have been training in Spain with Albert Cabestany for many days to try and improve my level, and I am also fortunate as I have an indoor training area at my house."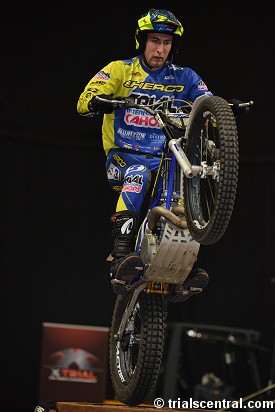 "In Sheffield and Marseille I made a good result, but the difference between a good result and a bad result is very small. To be inside the top five at the first two events was the perfect start for me. In Marseille the sections are always very technical, which I like, not so many big steps and nothing too dangerous. I am not too sure what to expect in Pau, but I know Bernard Estripeau – the man who will make the sections there - very well. He has a lot of experience in this work and I am sure that it will be a good competition again."

"My goal is to make it to the final in each competition, but you have to have the best level to make it through as the top four riders each time are very strong. Only a bad mistake in Marseille stopped me from making it to the final, I now must learn from this mistake."

The Sherco rider ended by saying."To make the final in Pau would be perfect for me, I know I will have much support again, and I will try to use this to make the best result possible."

Round three of the 2015 FIM X-Trial World Championship will take place in Pau, France this coming Friday.